Kyma serves Greek seafood with contemporary panache.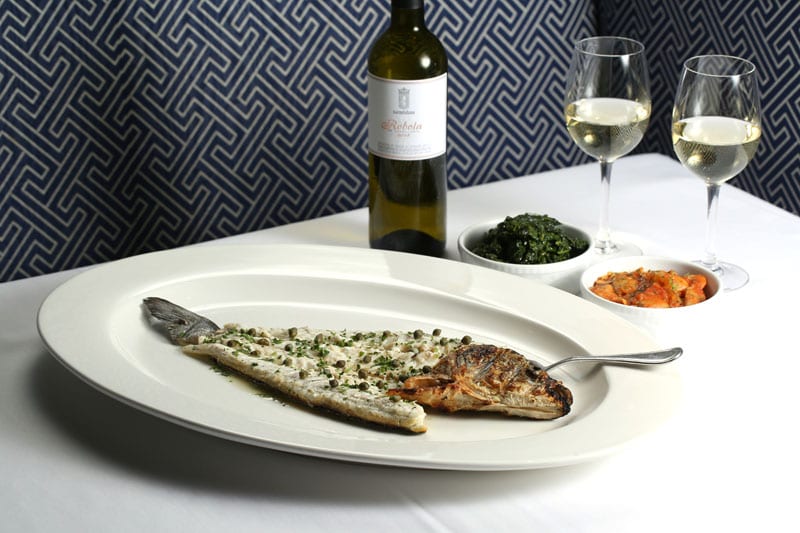 Around this time in 2002, much was at stake for the eldest son of Atlanta restaurant mogul Pano Karatassos. He had grown up in the kitchens of his father's Buckhead Life Restaurant Group, earned a degree in hospitality management from Florida International University, graduated from the Culinary Institute of America in New York and gone on to cook at some of America's finest restaurants (The French Laundry, Jean-Georges, Le Bernardin). But as his family rolled out Kyma—where the cuisine of their native Greece was being refashioned for modern audiences in a space that evoked the ancient white temples of the blue Aegean—the younger Pano was returning to the city of his youth riding high on a trail of great expectations.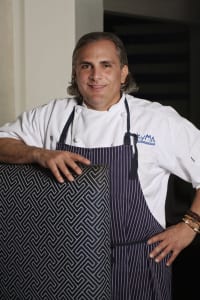 Pano I. Karatassos had been groomed for this moment for most of his life, probably, and he seemed to have it all: the pedigree, the resume, the good looks. But could he cook?
Fourteen years and a few gray hairs later, the answer is a resounding yes.
Under the leadership of its superb executive chef, Kyma has withstood the test of time to become what may be the best seafood restaurant in town. (In an email, the chef told me he started the trends of grilled octopus and whole fish served table side in this city, and by gosh, I think he's right.)
Certainly, unique to Atlanta is Kyma's offering of "rare" Greek fish—species such as lithrini (aka pandora), sargos (white sea bream) and barbounia (red mullet). As a rule, these catches are roasted whole on a wood burning grill, filleted and presented with head and tail on the plate (unless you request otherwise), and dressed simply with olive oil, lemon, capers and oregano. You will pay handsomely for one of these pristine beauties: Both of the whole fish we tried clocked in at about $60 each but were perfect for two to share. However, you probably won't find a fresher specimen outside Greece.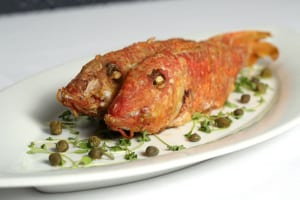 But first, you must start with a glass of the piney-flavored Greek wine called retsina and a pile of the so-called Greek "French fries." Mind you, these salty little nibbles are not potatoes. They are marides: tiny white fish, fried to a crisp and served with a potato-garlic puree for dipping, though to my mind they need nothing more than a squirt of lemon. It's an exceptional starter, one that I daresay you won't see anywhere else in town. Nor, for that matter, can you find in Atlanta the calamari "pasta"—squid shaved into vermicelli-like "noodles" and tossed with zucchini, tomato confit, kalamatas, capers and saffron yogurt. Delicious! And let's not forget the grilled cuttlefish, stuffed with long-braised lamb and perched on a stew of spicy tomatoes, peppers, olives and capers. The tubular fish looks a little naughty, but I love the way its firm texture coddles the earthy meat within.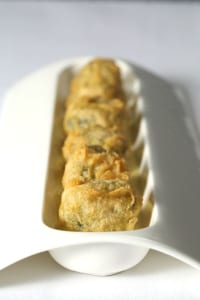 These latter two dishes are nice examples of how Karatassos transforms traditional Mediterranean ingredients into food that is playful and fun, yet still comforting and real. If fishy flavors aren't your thing, you might consider some of the classic Greek meze such as dolmades, grape leaves stuffed with bulgur and tomato and perked up with cumin yogurt; spanakopita, phyllo triangles folded with spinach and feta; and zucchini-and-feta fritters with saffron yogurt. I love all these nibbles. But man, those zucchini fritters!
All these bites are wonderful with the aforementioned retsina. But there are scads of other good wines, and because so many of them are Greek, you might ask your server to guide you. The cocktail program is strong, too, and while my gin-swilling friend was happy with the Morpheus (with St. Germaine, a squeeze of lemon, a touch of lavender, and a hibiscus flower garnish), I dug the Golden Fleece. A mix of rakomelo, a whisky-like Greek digestif of raki and honey; the Greek brandy tsipouro; apple-cardamom shrub; lemon and bit more honey, it reminded me a bit of a caipirinha, only with whiskey.
While you can have a perfectly lovely, well-rounded dinner by choosing from the meze—maybe throw in the famous grilled octopus with red-onion salad and red-wine vinaigrette or elegant roasted oysters topped with champagne "avgolemono" and Russian osetra caviar—getting a whole roasted fish is one of the signature joys of Kyma.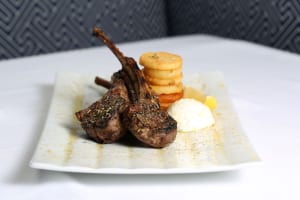 Our 1.75-pound, $66.50 lavraki (bronzino) was perfectly cooked and generously doused with a sauce of lemon and capers. Because my date was a little squeamish, we requested it without the head and tail, and she oohed and aahed over that moist, flaky fish. And so did I. On another visit, our 1.25-pound, $60 sargos (this time with head and tail in plain view) was good, but we would have loved a bit more of the lemon-caper sauce and a sprinkle of salt. The whole fish here comes with silken sautéed kale; we also like the stew of giant white beans, tomatoes, onion and dill as a side. Landlubbers might want to go for the lamb chops, served with a stack of Greek fries and cucumber-yogurt tzatziki. That zingy sauce is just the thing to cut the rich, luscious lamb.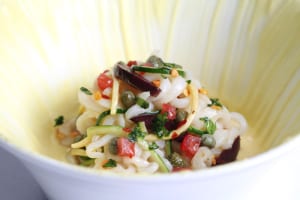 By this time, you may be content with a spoon or two of Greek yogurt with honey and candied walnuts. It's astonishingly good. But, then, so are those Greek donuts (loukoumades), topped with honey, walnuts and cinnamon. Baklava with pistachio ice cream is not too shabby, either. If you want something truly exotic, consider the sarikopita, a Cretan, coil-shaped "turban pie" stuffed with goat cheese. Once again, you won't find this anywhere else in the city. We like finishing the meal with a glass of ouzo. Samos Nectar—a sweet but not-toosweet, raisin-y dessert wine—is also lovely with most anything from the dessert list.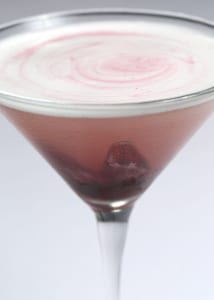 In Greek, Kyma means "wave." And that's exactly what it created when it arrived at the beginning of the 21st century. And with Karatossos at the helm, it continues to make a splash. Anytime we want to escape to the Greek isles, if only for a night, this is where we want to be. It's a contemporary seafood tavern where you'll encounter extraordinary cooking that combines the best of yesterday and today. Well done, chef. Opa!
KYMA
3085 Piedmont Road
Atlanta 30305
404.262.0702
buckheadrestaurants.com/kyma
Prices: Meze, $8-$14. Mains, $26-$46. Whole fish is priced at $30 or $36 per pound.
Recommended: Golden Fleece and Morpheus cocktails. Dolmades, zucchini fritters, spanakopita, marides (Greek "French fries"), cuttlefish, whole fish such as lavraki, bourbania or sargos. Lamb chops. Giant white bean stew. Greek yogurt, baklava, Greek donuts, sarikopita.
Bottom line: Still fresh after all these years.
STORY: Wendell Brock PHOTOS: Sara Hanna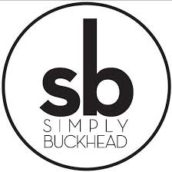 SimplyBuckhead
Simply Buckhead is an upscale lifestyle magazine focused on the best and brightest individuals, businesses and events in Buckhead, Brookhaven, Sandy Springs, Dunwoody and Chamblee. With a commitment to journalistic excellence, the magazine serves as the authority on who to know, what to do and where to go in the community, and its surroundings.