THE CREATION OF A MODERN MASTERPIECE!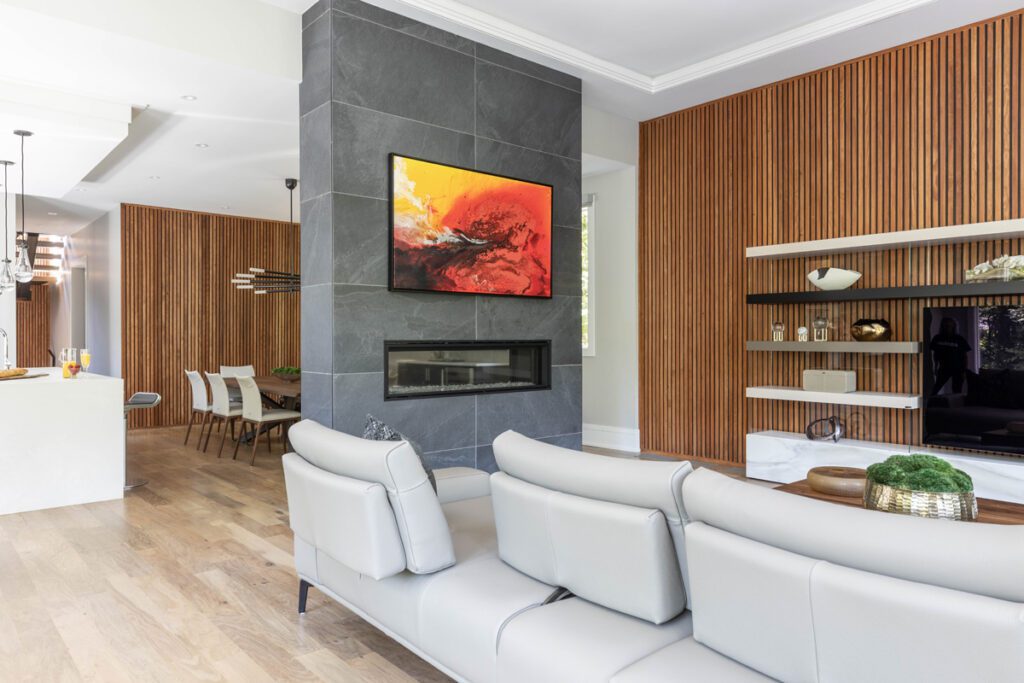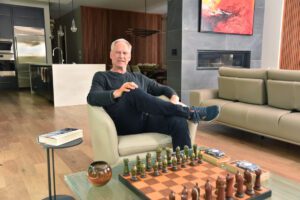 David Reece has a passion for architecture and civil engineering. He earned a bachelor's degree in the former and a master's in the latter, both at Iowa State University, before getting an MBA from Northwestern University. As senior vice president of finance and capital markets at a national multifamily real estate company, he is responsible for project debt and equity financing. Outside of work, however, he's been honing his gusto for construction and design.
"I'm in some spec houses, and I've always wanted to design. I did a three-story addition on my house in Roswell," Reece says.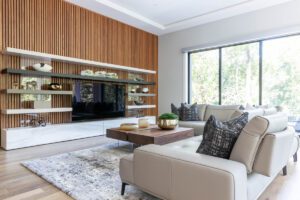 Recently, Reece took his hobby up a notch when, in 2020, he decided it was time to leave his 26th floor condo in Dunwoody for a four-bedroom, four-and-a-half-bath modern residence in Buckhead. The three-story project was designed by residential home designer Dave Price of Price Residential Design and built by Ray Bongers of Bongers Homebuilders, but Reece was actively involved in its creation. From altering the location of the master bedroom, resizing support beams with structural engineer David Palmer and adding upgrades, he remained involved throughout the five-month design process and 16-month construction timeline.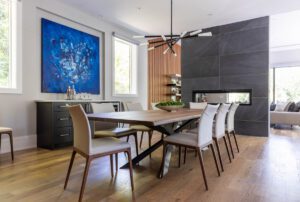 "It was a very collaborative process overall with the residential home designer, builder and interior designer working as a team," says Reece, who moved into the 4,600-squarefoot domicile in July. "I really wanted to do this house for the whole experience: the design, the construction, having the ideas in my head for the house transform into a real living space pretty darn close as to how I imagined it would be."
Stair-stepping a wooded hill in North Buckhead, the home was constructed to fit into the contours of the land. Reece loves to refer to his abode as a treehouse, a reference made more grand at night with outdoor up-lighting. "It's a very dramatic setting, sitting up high and far back from the street on steel I-beams," Reece says. "It's very private in the back amongst the trees, and it makes you feel like you're in the treetops."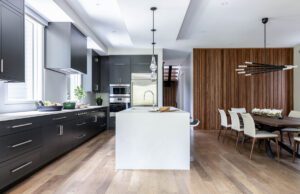 Cross a bridge over a trickling stream and ascend the steep driveway to get an up-close view of the commanding exterior, painted in Benjamin Moore Peppercorn and Iron Ore. Stacked stone, 12-inch Hardiplank siding and cedar soffits soften the modern lines, including a section that cantilevers over the hillside, held up by 52-foot steel beams anchored in concrete. Through the glass-paneled garage are Reece's three sports cars and one of the reasons he wanted to trade high-rise living for a home with multi-car parking.
Through the heavy mahogany slab door is a mudroom and dramatic floating staircase with seven globe lights cascading down from the third level. On the second level, the kitchen, living and dining room share a mostly open floor plan. A partial wall with a double-sided fireplace divides the dining and living space.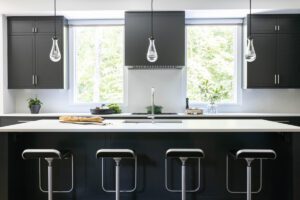 The kitchen features a Concrete Cloudburst quartz island with waterfall ends and teardrop pendant lights from Restoration Hardware. Cabinets by FineCuts Custom Cabinetry are painted in Iron Ore to match the outdoor trim. The kitchen opens into the dining space where a walnut dining table that seats 10 is ideal for a large dinner party.
"I really couldn't entertain in my previous two-bedroom condo, so I'm really looking forward to doing it here," Reece says.
On the other side of the partial wall is the living room that features a 12-foot, wood ribbed statement wall behind air shelves filled with photos and mementos. The most noteworthy aspect of the space is the stunning view of the surrounding trees from the custom 9-foottall windows. Nine-foot pocket sliders "disappear" into the wall, giving access to the outdoor deck.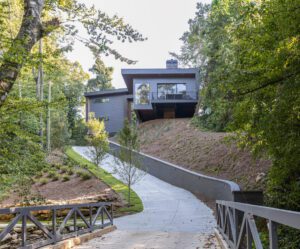 "The front deck juts out from the hillside into the air to provide a great view down at the bridge and stream below," Reece says.
A different vantage point of the view is available in various locales of the home. In his bedroom, Reece takes in the trees from the bed, looking through floor-to-ceiling glass windows. Wood-ribbed walls hide the walk-in closet that connects to the angled bathroom where a standalone tub is set between two picture windows. The bathroom also boasts an enormous shower with herringbone pattern black tile and three fixtures controlled by a wall-mounted keypad.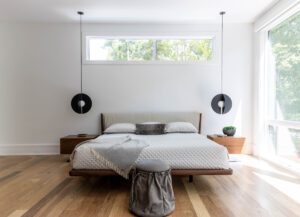 An office is tucked between his bedroom and the living space, and behind a sliding frosted glass door. A glass desk and custom walnut credenza by FineCuts Custom Cabinetry make up his workspace. Above the credenza is a work by photographer Peter Lik, an 8-foot image of the bottom of a waterfall that Reece's daughter picked out for him on a father-daughter trip. The office also showcases car paintings by artist Dr. Daryl Figa. Nearly all the other art Reece commissioned from artist Lynne McDonald. Her five abstract pieces are sprinkled on each level.
Aside from a grandfather clock built by Reece's engineer dad and the glass desk in the office, nearly all the furniture is from contemporary retailer Cantoni. Kohl Sudnikovich, Cantoni design consultant, helped Reece choose and place the pieces, and Margi Scott of LPH Home Finishes selected paint colors, plumbing, light fixtures and more.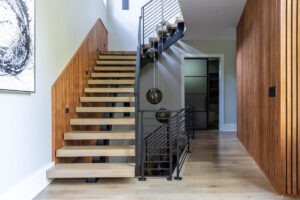 The second level has all the living space the homeowner uses, but the third floor is mostly for guests, Reece says. Two bedrooms are next to each other, one with a white bed and closet, and the other with a black bed and closet. The top floor also has a game room with a pingpong table and wet bar/kitchen that opens to a resort-worthy pool area. Secluded high up in the treetops, the deck features a saltwater HOME plunge pool with sheer descent waterfalls and a fire feature. A separate fire pit area and covered lounge space provide room to relax away from the sun.
"This area really gives you the feeling of being in a treehouse when looking out over the back-deck railing 30 feet above the ground and into the hardwoods on the east side of the house,"
Reece says. Reece relished the creation of his new home so much that this project won't be his last. "I would really love to build another modern house and do it all over again with the same team," he says. "But I don't think I can find a lot like this one that has such a dramatic setting."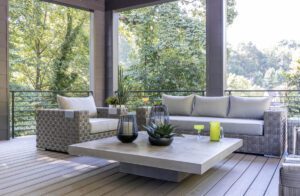 Meet David Reece's local dream team:
Builder: Bongers Homebuilders
Designer: Price Residential Design
Interior Designer: LPH Home Finishes
Structural: Palmer Engineering
Decorator/Furniture: Cantoni Furniture
Landscaping: Jacobs Landscaping
Pool: Neptune Pools
Art: Lynne McDonald and Dr. Daryl Figa
PHOTOS: Tara Carter Photography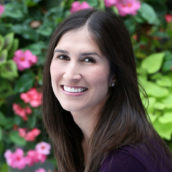 Giannina Bedford
Giannina S. Bedford is multi-faceted writer and editor. Her work covers design, travel, food and business. She's penned Simply Buckhead's home feature since inception and held a variety of editorial roles at the magazine. Her freelance work has appeared in Condé Nast Traveler, USA Today, Virtuoso Life, Hemispheres and TravelandLeisure.com. She also contributes regularly Atlanta Business Chronicle. Fluent in Spanish, Giannina was born in Miami and grew up in Brazil, Chile, Hawaii and Australia. She currently lives in Dunwoody with her two kids and husband.