10 RULES OF DESIGN FOR GREAT INTERIOR SPACES
STORY: Karina Antenucci
Not sure which direction to go in with your own interiors? Whether you're revamping a room, undergoing a complete remodel or simply wanting to make better use of the furniture and decor you currently have, a designer's eye can always help. Steve McKenzie resident Steve McKenzie, principal at McKenzie Design LLC on the Westside, specializes in luxury residential interiors and says there are certain design rules that, well, rule. The interior designer offers the following 10 key tips for bringing out the best in your spaces.
1. RULE NUMBER ONE
No matter the space that McKenzie is designing, his number one rule of thumb is to "have a mix of both old and new items, as well as personal pieces that reflect the owner's history and their interests," he explains. This way, it's more interesting and reflective of the homeowner.
2. GIVE IT PERSONALITY
To give a room "soul," McKenzie suggests incorporating the personal interests of the people living there. "There are a variety of ways to do it," he says, "such as including objects from travels or interests that can be framed, styled into a vignette or hung on the wall."
3. CURATE THE PHOTO DISPLAY
McKenzie suggests keeping personal photography to a minimum in communal spaces, such as a downstairs living room or dining room. "I think it's fine to have photo frames of iconic moments such as weddings or babies. But reserve the family photo wall for a private space within a home such as an upstairs hallway, TV room or master bedroom."
4. TIMELESS, NOT TRENDY
No one wants to revamp their home's interior decor every few years, right? So make sure each room has good "bones," meaning timeless foundational items, such as a high-quality rug, sofa and club chair.
5. NEUTRAL BASE
For timelessness, stick with a neutral color for those foundational pieces. Then your drapes, throw pillows and an interesting object sitting on a bookshelf, or something like that, can incorporate color and make it exciting. "Don't design a room in the color or style of the moment," recommends McKenzie. "If you stick to one style or one color palette, you'll likely grow tired of it."
6. GO WITH THE FLOW
"There should be a cohesiveness to a home to make it more comfortable," says McKenzie. This could be through common colors that manifest throughout the home, but don't all match. "Maybe the sage green in a sitting room appears in a pillow in the bedroom."
7. ADD SOMETHING QUIRKY
"I always like an unexpected piece in every room," says McKenzie. He loves to bring in something repurposed to fill this prerequisite. For example, an end table in his office is a sheet-music cabinet from the 1800s that features a canvas with a painted landscape on it. "It's totally unexpected and interesting." However, that quirky item doesn't always need to be an antique—in the kitchen, for instance, it could be a range in a bright color.
8. FLEA FROM STANDARD RETAIL
To find unique pieces and antiques or to start a collection, visit flea markets, estate sales and antique stores on the regular, and be patient to pinpoint those diamonds in the rough. "Eventually, you will find things you respond to," notes McKenzie. "Trust your gut on that. It takes a bit of poking around."
9. SHAPE SHIFTERS
Have a difficult room shape to deal with? McKenzie recommends thinking about the purpose of the room and being strategic about it. "Say it's the living room, and you want to create conversation areas, then you might need several smaller, purposeful spaces to create that dialogue," he says.
10. QUICK FACELIFT
If your rooms need a little oomph without doing a full interior redesign, set your sights on freshening up your rugs, pillows and other textiles. "And don't be afraid to move objects and art around to keep rooms visually interesting," says McKenzie.
McKenzie Design LLC
404.618.0422
mckenzieinteriordesign.com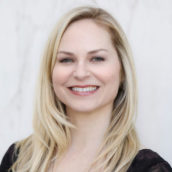 Karina Antenucci
Managing Editor and Wellness Columnist at Simply Buckhead. Blogger at Badass + Healthy.