Here's how to find or make an un-fur-gettable pet costume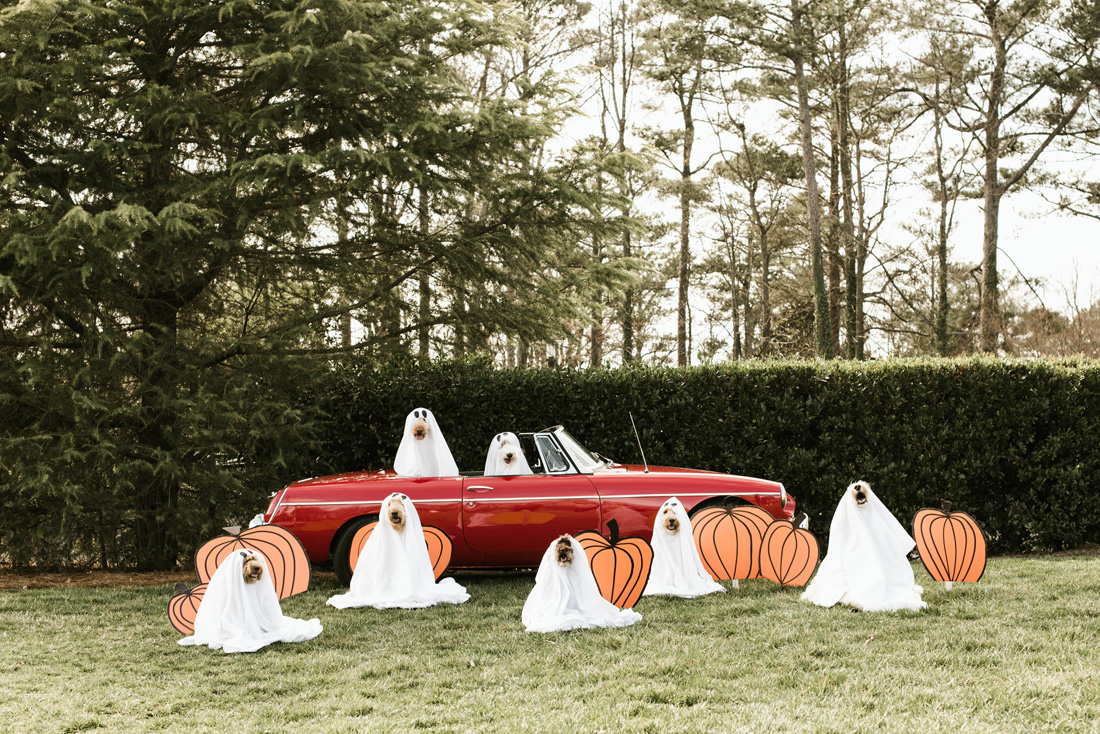 STORY: Laura J. Moss
According to the National Retail Federation, about 16 percent of American families will dress up their pets for Halloween this year. But while kitties and canines in costumes are undeniably cute, there are a few things to consider before you wrestle your cat into a bonnet or squeeze your dachshund into a hot dog bun.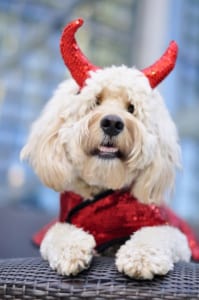 No one knows your furry friend better than you, so first, determine whether your pet will actually enjoy sporting an outfit. Dogs may be more amenable to wearing clothes than cats, but even well-behaved pups may be uncomfortable, especially if they aren't accustomed to getting dressed up.
Never force your pet into clothes or a costume, as this could cause undue stress and anxiety. However, some pets may actually enjoy the extra attention they receive when they're all dressed up. Case in point: a standard red poodle named Ophelia. "Ophelia loves the spotlight," says jeweler Rachel Felker, who takes her pooch with her when she sells her wares at various arts festivals throughout Buckhead, Brookhaven and Sandy Springs. "It's evident that 'playing dress up' for Ophelia is like any other dog training where it challenges her intellectually to hold a task and wait for a reward. She's like a mascot at our art shows."
If you think your pet would take to a costume, look for one that fits well and allows them to move, see, hear and breathe normally while wearing it. There aren't standard sizes for pet clothes, so choose a costume based on your pet's individual measurements instead of by label size. Also, look for costumes that don't have small parts such as buttons and beads that could be easily chewed off. If your pet will be joining you for trick-or-treating, consider an outfit that glows in the dark or has lights, and make sure your pet's collar and identification tags still fit comfortably.
Try on the costume before Halloween to see how your pet does while wearing it. Watch for any squirming, scratching or vocalizing that may indicate your feline friend or canine companion isn't happy. If it's clear that you're the only one who's taken with the costume, it's best to remove it. You can always try attaching something less intrusive, such as a bowtie or bandana, to your pet's collar to dress them up for the festivities.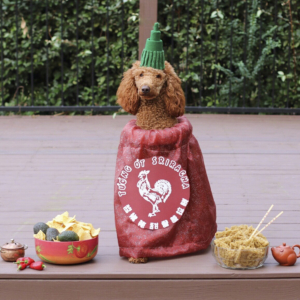 Regardless of how much of a costume your pet is wearing, it's imperative to keep a close eye on your furry friend to ensure the costume is worn properly and doesn't become entangled on furniture or other household objects.
If you want a unique Halloween costume for your pet, Felker suggests crafting your own. "The best and most creative costumes are made solely from things found at home," she says. "Yes, the chain stores sell some really cute costumes, but then at the festival you attend or on Instagram, there could be other dogs wearing the exact same outfit. Surprise and delight are produced from stretching your creativity on limited supplies."
WHERE TO BUY: PET COSTUMES
Bark Fifth Ave.
(online only)
barkfifthave.com
CityDog Market
4244 Peachtree Road N.E.
Atlanta 30319
404.816.8050
citydogmarket.com
Petco
5938 Roswell Road N.E.
Sandy Springs 30328
404.255.6544
petco.com
PetSmart
3221 Peachtree Road N.E.
Atlanta 30305
404.266.0402
petsmart.com