A sampling of great eats in and around Buckhead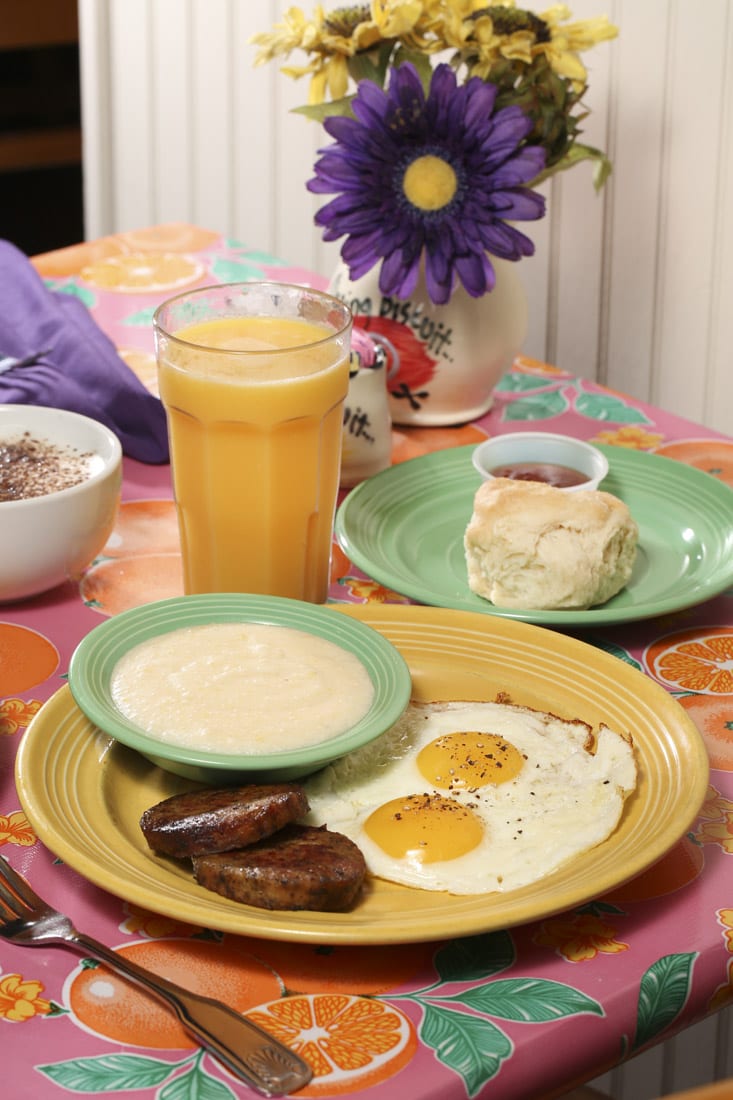 BY: Wendell Brock, Rebecca Cha and Angela Hansberger
PHOTOS: Sara Hanna
ANIS CAFÉ & BISTRO
Anis is everything you'd hope to find in a French bistro, without having to buy a plane ticket: traditional Provençal dishes, relaxed patio dining and often a small congregation of Frenchspeaking diners to help set the mood. Grilled North African-style Merguez sausage, coquilles St. Jacques or a bright, crisp salade d'Arnaud (named after the owner) are all winning starters. Entrées of truite meunière, poulet rôti and boeuf au poivre are sure to bring you back to that quaint Provençal village square. Best-in-class items are the croque monsieur, salade Niçoise, moules marinières and not-to-bemissed chocolate mousse.
Lunch prices: $8-$19
Dinner prices: $8-$35
anisbistro.com
BABYLON CAFÉ
When Iraqi native Saad Marwad and his wife, Kelly Rafia, opened Babylon Café in 2014, the city's foodie community started to buzz about the couple's fresh, flavorful repertoire of Middle Eastern classics, from falafel and hummus to kebabs and baklava. While the starters are quite good—try the fattoush salad, the lentil soup and the eggplant badenjan— the earthy, long-simmered stews are unlike anything else in town. We like the herb-based qurma sabzi with super-tender lamb shank and the bamia (okra and tomatoes) with oxtail. Don't leave without a sip of the anise-flavored aperitif called arak and a bite of kanafeh, a sweet made of shredded phyllo, housemade sweet cheese, rose- and orange-water syrup and pistachios.
Appetizers and sides: $2-$7
Entrées: $12-$20
babyloncafeatl.com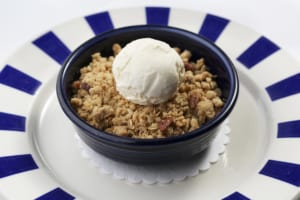 BLUE RIDGE GRILL
For more than 20 years, Blue Ridge Grill (BRG) has been a mecca for Buckhead power lunchers and chill evening diners alike. Whether for business or romance, BRG is a paragon of hospitality, and each guest is embraced like a VIP. Standard crowd-pleasers on the Euro-American menu include grilled Georgia trout, French-boned chicken with wild mushrooms and filet mignon with Vidalia onions. Small plates and sides of iron skillet mussels, Caesar salad with crisp Beeler bacon, custardlike corn soufflé and (off-menu item) fried pickles with buttermilk dipping sauce are absolute must-tries. If cost is an issue, call ahead, as menu prices are not advertised online.
Lunch: $9-$42
Dinner: $13-$62
blueridgegrill.com
CABO CANTINA
Even if you aren't a sports fan, you'll welcome a visit to this Mexi-Latin sports bar on Pharr Road. The 35 varieties of 100 percent agave tequilas are just the start. Kick off with a five-star margarita that'll have you shouting "touchdown!" long before the national anthem begins. And just try to keep your eyes on the game when knockout dishes such as braised short rib empanadas, smokyspicy chorizo or chipotle shrimp tacos and a side of tender yucca fries arrive at your table. Mains such as the adobo chicken and charred rib eye, or healthier fare like the citrusy, fresh ceviches, are big winners as well. Let's just hope your favorite team is, too.
Brunch: $10-$17
Starters and shared plates: $5-$12
Tacos and sides: $3-$4
Entrées: $12-$25
cabocantinaga.com
DAVIO'S NORTHERN ITALIAN STEAKHOUSE
With its handmade pasta, terrific steaks and foundation of classic Italian dishes, the Atlanta outpost of Massachusettsbased chef-preneur Steve DiFillippo sets a higher-than-usual standard for a mall restaurant. Fine-food lovers flock to Phipps Plaza for Davio's delicious fried calamari, tagliatelle Bolognese and warm spinach salad like ravenous shoppers on the hunt for Louis Vuitton bags, Tiffany silver and Dior gowns. And they can do no better than the buttery medallion of impeccably grilled top sirloin, slathered with Gorgonzola and paired with wilted spinach and sea-salt-and-truffle-oil fries. No wonder the Davio's menu is as tantalizing as the shoe department at Nordstrom.
Appetizers and salads: $9-$16
Pastas, entrées and steaks: $18-$48
davios.com/atl
FLYING BISCUIT CAFÉ
Flying Biscuit Café is a touchstone of diner life here in Atlanta, and with good reason. "Creamy dreamy" grits and flaky Southern biscuits round out most every meal, and there are loads of tummy warming, substantial dishes to choose from. Turkey hash, the Not Your Mama's Pimiento Cheese Sandwich and chicken pot pie (made with hot, buttery biscuits, of course) are reminiscent of grandma's kitchen, and the congenial staff will keep you coming back for more. Gordo Stevens' artwork across the walls and ceiling adds a funky, kitsch-cool vibe to the Brookhaven outpost of this breakfast and brunch favorite.
Breakfast: $3.29-$12.99
Lunch: $4.99-$12.99
flyingbiscuit.com
HAVEN RESTAURANT AND BAR
Haven is exactly that—a safe, inclusive place where your every gastronomic need is met. If weather permits, enjoy the serenity of patio dining while indulging your taste buds with crisp Gulf oysters, the Southern cheese board or Timmy's Wild Georgia shrimp. Or go inside and soak up the classy atmosphere while digging into seared Georges Bank scallops or spice-roasted Green Circle Farms chicken, and wrap things up with a warm chocolate brownie with artisan espresso sauce. On Tuesdays, many four-star bottles of wine are half price. Sunday is burger night, available from 5 p.m. until they run out.
Small plates and salads: $6-$15
Entrées: $18-$38
Steaks: starting at $51
Sides and desserts: $7
havenrestaurant.com
THE HUNGRY PEACH
Despite the hyper-elegant surrounding showrooms, The Hungry Peach, located inside the Atlanta Decorative Arts Center, serves up anyone's idea of a perfectly down-home lunch. Colossal salads and delectable renditions of classic sandwiches, such as the meltin- your-mouth corned beef Reuben, egg salad and smoked bacon-pepper jack wrap, are sure to please welcome visitors and hungry professionals alike. Sides including the Cajun mac 'n' cheese and loaded potato salad will knock your designer socks off. Not to be missed are the freshly made sweets, such as the five-layer coconut cake and Callebaut chocolate brownie. Wash it all down with a bottomless mason jar of iced sweet tea.
Starters: $4-$9
Salads: $10-$12.50
Sandwiches: $8.50-$12.50
Desserts: $2.50-$6
thehungrypeach.com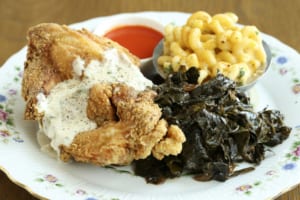 THE SOUTHERN GENTLEMAN
Both Southern food newbies and aficionados will take to this sexy gastropub, as smooth and easy as the finish of one of its primo bourbons. (If you're old school, go for the gloriously icy Resurgens mint julep; if not, there's no shortage of cocktail possibilities.) When your whistle's wet, dig in to favorite starters of spicy charred okra and PEI mussels in a whiskey cream sauce. Both will leave you smitten. Classics such as the shrimp boil, Springer Mountain half fried chicken and shrimp and grits with New Orleans barbecue sauce are all mouthwatering. And it wouldn't be Southern if there weren't sweets to make your toes curl in delight. Leave room for a nibble or two of brown butter cake or the favorite at our table—almond nougat semifreddo.
Small plates: $6-$12
Salads and sandwiches: $6-$13
Large plates (including brunch entrées): $13-$28
thesoutherngentlemanatl.com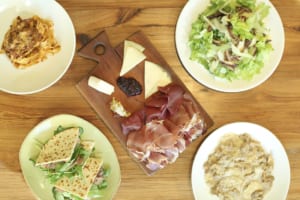 STORICO FRESCO ALIMENTARI
Is a trip to Italy on your bucket list, but you can't get away? A meal at oh so authentic hot spot Storico Fresco may be just the ticket. A must here is the meat and cheese board, piled with prosciutto, bresaola, culatello, fragrant cheeses and gooey honeycomb. Its refined, rustic and utterly classic pastas, including garganelli con funghi, tagliatelle alla Bolognese and ravioli spinaci, conjure up images of Tuscan vistas and Michelangelo statues. Seconds such as the pork shank for two and bone-in veal chop will sate your Italian cravings as well. End your repast with a glass of the world-class Miscela d'Oro espresso.
Appetizers: $12-$24
Salads and sandwiches: $10-$21
Pastas: $11-$23
Mains: $24-$30
Side dishes and desserts: $6-$7
storicofresco.com
TRUE FOOD KITCHEN
Don't be put off by the mobs of hipsters waiting for a table or the funky menu items with unfamiliar ingredients such as hemp, flax and chia. Though it could easily be mistaken for an ephemeral, crunchy beardo hangout, True Food Kitchen is here to stay—not just because of its good intentions and exemplary karma, but because of its tasty eats. Favorites include the shiitake lettuce cups, spring asparagus toast and the T.L.T. (tempeh, lettuce and tomato) sandwich. Good for the uninitiated are the margherita pizza, steak tacos and Mediterranean chicken pita. Recommended drinks include the non-alcoholic Cucumber Cooler and Medicine Man tea or the buzz-inducing lemongrass margarita, citrus skinny margarita and Strawberry Smash.
Starters and vegetable plates: $7-$13
Salads and bowls: $10-$14 (added protein $3-$9)
Pizzas and sandwiches: $12-$16
Entrées: $14-$26
truefoodkitchen.com
Angela Hansberger
Drinks columnist at Simply Buckhead. Food, spirits, and culture writer.