A sampling of great eats in and around Buckhead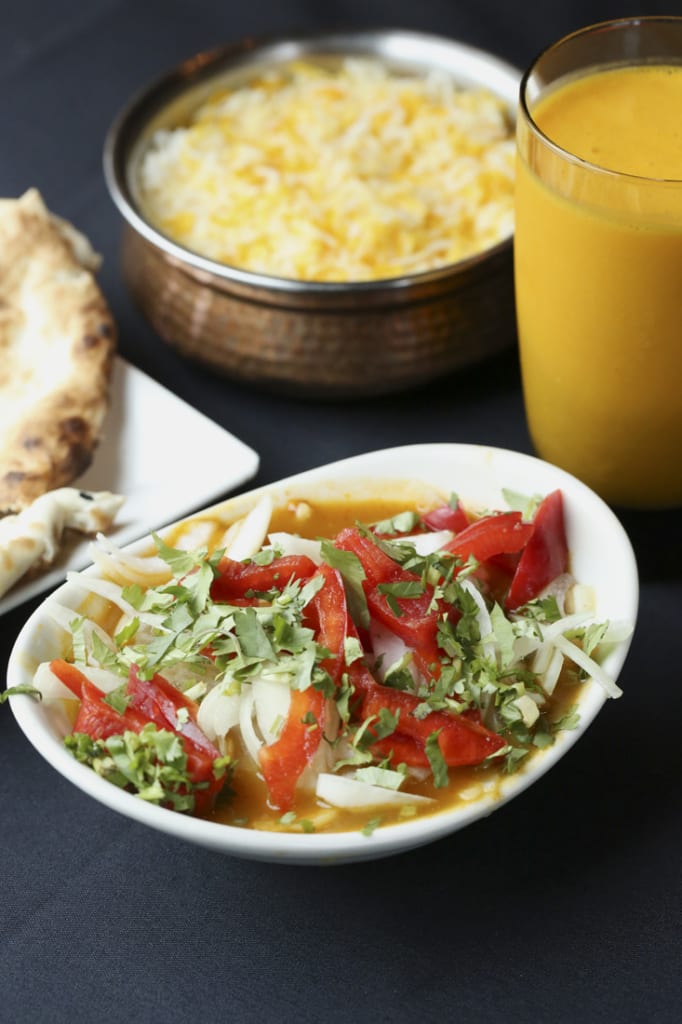 10 DEGREES SOUTH
After 15 years on the scene, this Roswell Road establishment is a highly original destination where food and wine from the tip of the Southern Hemisphere are celebrated with flair. Before we could pose the server with a query on the peri-peri, we got the hard sell on South African reds—particularly the Rupert & Rothschild 2009 "Classique." The big, full-bodied R&R was the perfect match for the luscious, spicy food that followed. I may not be an expert on South African cuisine, but I'll wager that nobody makes bobotie (the national dish) like 10 Degrees South. The dish consists of tantalizingly sweet curried ground beef topped with a custardy crust. It's time to get your head out of the sand and indulge in the kind of stuff our parents enjoyed when "Continental" cuisine was in vogue.
Appetizers: $10-$16
Entrées: $21-$38
10degreessouth.com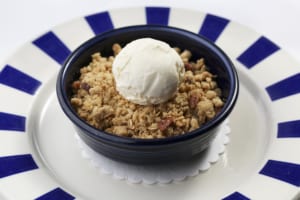 BLUE RIDGE GRILL
For 23 years, Blue Ridge Grill (BRG) has been a mecca for Buckhead power lunchers and chill evening diners alike. Whether for business or romance, BRG is a paragon of hospitality, and each guest is embraced like a VIP. Standard crowd-pleasers on the Euro-American menu include grilled Georgia trout, French-boned chicken with wild mushrooms and filet mignon with Vidalia onions. Small plates and sides of iron skillet mussels, Caesar salad with crisp Beeler bacon, custard-like corn soufflé and (off menu item) fried pickles with buttermilk dipping sauce are absolute must-tries. If cost is an issue, call ahead as menu prices are not advertised online.
Lunch: $9-$42
Dinner: $13-$62
blueridgegrill.com
BUCKET SHOP CAFÉ
Atlanta's answer to TV's "Cheers," this casual, family-owned spot across from Lenox Square is a game-day institution with seriously good pub grub, friendly prices and spirited, efficient service. Burgers, wings and sandwiches of all kinds dominate the menu. But one dish on the starting lineup deserves a special trophy: the chicken rolls. Perhaps they sound like a fusion experiment, but in fact, these crispy, deep-fried egg roll wrappers stuffed with chicken, cheese, sour cream, chives and Tex- Mex sauce (salsa mixed with ranch) are downright addictive. The Bucket Shop team gets extra points for its solid, ever-changing list of local craft brews.
Starters: $6-$13
Sandwiches and burgers: $9-$13
Entrées: $12-$18
bucketshopcafe.com
COPPER COVE INDIAN BISTRO
Anjali and Subrata Roy have won our hearts with this pan-Indian bistro, their third restaurant in the Atlanta area. Whether you visit for the bountiful lunch buffet or a more relaxed evening meal, you will leave sated and inspired by the Roys' formidable talent with the Indian spice palette. Proprietary blends transform standards such as Chicken 65, tikka masala and tandoori into something sublime. Just as commendable are the lamb rogan gosht, chicken shahi korma and shrimp bahadur. For afters, go for something sweet and creamy, such as kulfi (Indian ice cream), kheer (rice pudding) or ras malai (similar to cheesecake without the crust). Your dining adventure wouldn't be complete without trying the masala chai, consisting of milk, tea, ginger, black pepper and bay leaf. Exquisite.
Accompaniments, appetizers and soups: $2-$10
Chef's specials, tandoori and traditional dishes: $12-$22
coppercoveindianbistro.com
FOGO DE CHÃO
You don't have to brave the pampas of South America or the wilds of Africa to witness the most primitive form of cooking—and eating—on the planet. Every day of the week, deep in the heart of Buckhead, hunks of meat sizzle over an open fire, and grown men smack their lips and engage in gluttony as a kind of participatory sport. At this Brazilian churrascaria, you can sip caipirinhas and nibble cheese bread; graze from a beautiful, bottomless salad bar; then indulge in an endless parade of meats, carved straight onto your plate by servers in gaucho drag. It's all quite delicious, though the place can get Vegas crazy at times, so just be prepared for a mob.
The full experience: $51.50 (dinner); $32.50 (lunch)
Salad bar only: $24.50 (dinner); $22.50 (lunch)
fogodechao.com
JALISCO
After nearly three decades, Jalisco remains a giddy, guilty pleasure trip through a tunnel of cheese. This Tex-Mex institution at Peachtree Battle is better than an El Paso taco kit, but not exactly a showcase of the sophisticated techniques and ingredients of the Mexican larder. Without apology, Jalisco is what it is, a place with consistently good, standard-issue burritos, enchiladas, fajitas and even a "Hamburguesa Mexicana." (It's topped with nacho cheese.) This is not a place where the kitchen thrives on change and creativity. For the most part, the menu is the same as it has been since Jalisco opened in 1978.
Lunch specials: $5-$9
Entrées: $9-$13
404.233.9244
KYMA
The name means "wave," and that's exactly what executive chef Pano I. Karatassos has been doing at his family's stellar Greek seafood restaurant since 2002. From marides (tiny, "French fry"-size white fish) to Greek specimens grilled whole (try the barbounia or bronzino), Kyma excels at delivering the kind of simple, unadorned flavors you'll encounter on a patio by the Aegean. Order a glass of Greek wine (there are many options) and a few classic meze for sharing (we like the dolmades, spanakopita, cuttlefish stuffed with lamb stew and the feta-zucchini fritters), and your meal will go just swimmingly.
Meze: $8-$14
Mains: $26-$46. (Whole fish: $30 or $36 per pound)
buckheadrestaurants.com/kyma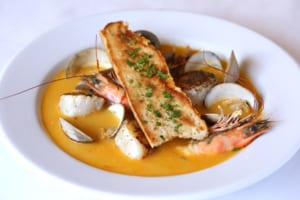 PORTOFINO
We often dream about this slightly-off- Paces Ferry slice of Italy, where executive chef Matt Marcus' earthy cooking evokes Liguria while staying smartly anchored in America. (And sometimes the American South.) Since 2000, this neighborhood gem has been a primo spot for feasting on the vibrant flavors of its Italian Riviera namesake. Vealand- ricotta meatballs, fried artichokes, luxurious pastas, polenta with shrimp, limoncello cheesecake: It's the sort of wonderfully comforting, handcrafted fare that satisfies our longing for La Bella Vita when a trip to Italy is simply not in the cards.
Soups, salads and antipasto: $7-$14
Pastas and entrées: $18-$29
portofinoatl.com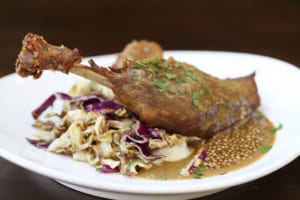 SALTYARD
At Saltyard, Chef Nick Leahy offers a menu of small plates with reverence for local farmers and the current growing season. Employing global imagination, he heightens these dishes with international seasonings and flavors to create worldly comfort food. With an ever changing menu, Saltyard is never the same place twice. Rustic dishes such as crispy duck confit and super tender grilled octopus are masterful in their simplicity and depth of flavor. Raw and cured items such as the deconstructed salmon pastrami, while lighter, offer an equal flavor punch. This is not the place to skip the dessert course. Leahy puts forth the same amount of effort in his decadent chocolate nemesis with Brandy cream as he does entrees.
Tapas: $5-$16
Large plates: $18-$25
saltyardatlanta.com
TREEHOUSE
Occasionally, sitting at Treehouse feels more like a cookout. Neighbors and regulars have been coming here for the familiar comfort food and laid-back atmosphere for a little more than 20 years. Brunch is a big deal, with a large menu and generous portions of favorites such as the Georgia pecan waffle and Southern-style eggs Benedict covered with sausage gravy. It's all about the patio here, and dogs are welcome guests. The chef works to enliven old favorites with as much attention to the all-American fried chicken sandwich as the New York strip au poivre. He also curates a mighty fine list of craft beers.
Brunch: $8-$10
Appetizers: $3-$13
Burgers and sandwiches: $7-$10
Large plates: $17-$22
treehouseatlanta.com
WATERSHED ON PEACHTREE
Co-owned by Indigo Girl Emily Saliers and restaurateur Ross Jones, Watershed is a restaurant with a storied, personality-driven past. It started as a walk-up sandwich shop in Decatur, won a James Beard Award for chef Scott Peacock and moved to Buckhead in 2012. Recently, chef Zeb Stevenson took over the kitchen, and his Southern and sometimes French-accented food is a decided improvement over predecessor Joe Truex. We are crazy about the dreamy chicken-liver mousse, smoked-trout brandade and Appalachian cider beans, a cassoulet-like play on pork and beans. A self-taught cook who brings soul, excitement and the occasional spark of genius, Stevenson is less interested in replicating the greatest hits of the past than cooking straight from the heart. We should all respect that.
Appetizers: $8-$16
Entrées: $9-$18 at lunch, $20-$35 at dinner
watershedrestaurant.com
BY: Wendell Brock, Rebecca Cha and Angela Hansberger
PHOTOS: Sara Hanna
Angela Hansberger
Drinks columnist at Simply Buckhead. Food, spirits, and culture writer.