A sampling of great eats in and around Buckhead.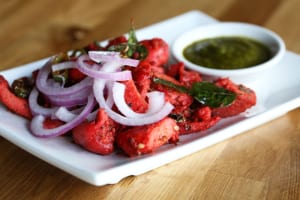 BHOJANIC
After two meals at this North Indian restaurant, I've come to admire the flavorful, long-simmered, aromatic home cooking. The Samosa Chat was a wonderful smash-up of potato-andpea samosas topped with tamarind and mint chutneys and cool yogurt. As for the entrées, I really loved the intensely flavored goat curry and wanted to sop up every drop of the gravy with rice. This second location of Archna Becker's beloved Decatur restaurant is an appealing minimalist space, and it's easy to get in and out and have a solid and affordable meal. We are delighted that it's finally here.
Tapas and appetizers: $4-$9
Entrées and thalis: $12-$18
bhojanic.com
---
CAFÉ AT PHARR
New Orleans owns the po'boy. Philadelphia has its cheese steaks. Maine gave us the lobster roll. So … what about Buckhead? I'd have to say that the neighborhood's defining dish is chicken salad, the classic bird-and-mayo spread that can be crammed in your mouth between slices of bread or eaten daintily with a fork. Thanks to the entrepreneurial zeal of Johnny Liu—whose Taiwanese immigrant parents opened the original Café at Pharr in 1993—this comfort food has become a new fast food. You have to love the story of Café at Pharr. An enterprising family comes up with a formula that charms and beguiles the locals: Fresh food served in an accessible and unfussy environment that never loses its friendly neighborhood feel.
Entrée sandwiches and salads: $7.50-$9.50
cafeatpharr.com
---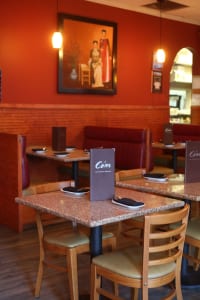 CO'M VIETNAMESE GRILL
In a Buford Highway strip mall on the edge of Brookhaven, Co'm has for some time now been my favorite place for the vibrant, aromatic flavors of the Southeast Asian nation that owner brothers Duc and Henry Tran once called home. While Atlanta has pho shops aplenty, the stars here are the rice and noodle dishes, which can be ordered with heavenly grilled meats, chicken or fish. The pièce de résistance, though, is the grilled grape-leaf rolls, stuffed with bits of beef, lamb, salmon, duck or tofu; doused in a pool of sweet-fishy vinaigrette and sprinkled with crushed peanuts and crispy fried scallions. Heaven!
Appetizers: $3-$10
Entrées: $7-$18
comgrillrestaurant.com
---
FOGO DE CHÃO
You don't have to brave the pampas of South America or the wilds of Africa to witness the most primitive form of cooking—and eating—on the planet. Every day of the week, deep in the heart of Buckhead, hunks of meat sizzle over an open fire, and grown men smack their lips and engage in gluttony as a kind of participatory sport. At this Brazilian churrascaria, you can sip caipirinhas and nibble cheese bread; graze from a beautiful, bottomless salad bar; then indulge in an endless parade of meats, carved straight onto your plate by servers in gaucho drag. It's all quite delicious, though the place can get Vegas crazy at times, so just be prepared for a mob.
The full experience: $51.50 (dinner); $32.50 (lunch)
Salad bar only: $24.50 (dinner); $22.50 (lunch)
fogodechao.com
---
HAL'S "THE STEAKHOUSE"
Looking on the outside like a highend strip joint topped with a Bourbon Street balcony, Hal's has built its cachet around its loyal clientele, old-school style, impeccable service and terrific food. Owner Hal Nowak is a New Orleans native, and in his eponymous enterprise—with its shrimp rémoulade, oysters bordelaise and booze-soaked bread pudding—he has created Atlanta's answer to Galatoire's. This may be your grandparents' favorite restaurant, but in an age where everything old is new again, it also boasts a youthful clientele that appreciates its straightforward food, strong drinks and speakeasy atmosphere.
Appetizers and salads: $9-$24
Entrées and steaks: $24-$50
hals.net
---
JALISCO
After nearly three decades, Jalisco remains a giddy, guilty pleasure trip through a tunnel of cheese. This Tex-Mex institution at Peachtree Battle is better than an El Paso taco kit, but not exactly a showcase of the sophisticated techniques and ingredients of the Mexican larder. Without apology, Jalisco is what it is, a place with consistently good, standard- issue burritos, enchiladas, fajitas and even a "Hamburguesa Mexicana." (It's topped with nacho cheese.) This is not a place where the kitchen thrives on change and creativity. For the most part, the menu is the same as it has been since Jalisco opened in 1978.
Lunch specials: $5-$9
Entrées: $9-$13
404.233.9244
---
NEWK'S EATERY
This Mississippi-based chain has popped up in the Atlanta market, and though it looks like a fast-food joint, it tastes like homemade. Salads—from shrimp rémoulade salad to a delicious steak-and-blue-cheese version to old fashioned chicken sal—are a standout. At this casual, family friendly, crowd pleasing spot you can also get sandwiches, pizzas and mac-and-cheese but, refreshingly, no burgers! We are pretty crazy about the sausage and  pepperoni pie, with its thin crust and warm and gooey toppings. And who can resist a crispy rice treat with chocolate and peanut butter? Not us.
Salads, sandwiches and pizzas: $7-$11
newks.com
---
SMASH KITCHEN & BAR
When it came to Smash, Tom Catherall— the Atlanta chef behind the Here To Serve restaurant empire—had little to prove. The British native designed the place himself, hanging portraits of Lennon and McCartney around a room of earthy brick, vinyl booths and shiny red kitchen tile. The menu plays like the chef's greatest hits: skillet-fried chicken, juicy steaks, shrimp and grits. Burgers are among the best in Buckhead. Try the one with pimento cheese and bacon or the simply dressed version with lettuce, tomato, pickles and American cheese. With a glass of Terrapin Hopsecutioner, a Smash burger is a terrific excuse to spend an hour or so at the bar.
Starters and salads: $4-$18
Entrées: $14-$34
h2sr.com/smash
---
STARFISH
Starfish—which can look just a little lost on the block that houses Restaurant Eugene and Holeman & Finch—is exactly the kind of sushi joint I have been trolling for. In a city where Japanese cuisine can be hit-or-miss and sometimes not the freshest, chef-owner Seung K. "Sam" Park's reticent little pearl is a superior catch— cute and compact as a bento box but with just a hint of luxury. At dinner, we were delighted to see how the kitchen plays around with untraditional ingredients like truffle oil and balsamic vinegar, slicing fish as thin as carpaccio and arranging it in dazzling presentations. When our flounder sashimi arrived, the server told us to place a dab of the ponzu jelly spiked with cilantro, jalapeño and lime on a strip of the fish and roll it up. Exquisite. Starfish isn't the kind of place that announces itself with screaming klieg lights or red carpets. But in this culture of excess, sometimes being a little bit under-the-radar can be very seductive.
Entrées: $7-$16 (lunch); $12-$30 (dinner)
starfishatlanta.com
---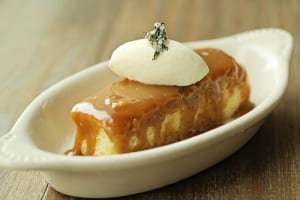 WATERSHED ON PEACHTREE
Co-owned by Indigo Girl Emily Saliers and restaurateur Ross Jones, Watershed is a restaurant with a storied, personality-driven past. It started as a walk-up sandwich shop in Decatur, won a James Beard Award for chef Scott Peacock and moved to Buckhead in 2012. Recently, chef Zeb Stevenson took over the kitchen, and his Southern and sometimes French-accented food is a decided improvement over predecessor Joe Truex. We are crazy about the dreamy chicken-liver mousse, smoked-trout brandade and Appalachian cider beans, a cassoulet-like play on pork and beans. A self-taught cook who brings soul, excitement and the occasional spark of genius, Stevenson is less interested in replicating the greatest hits of the past than cooking straight from the heart. We should all respect that.
Appetizers: $8-$16
Entrees: $9-$18 (lunch); $20-$35 (dinner)
watershedrestaurant.com
BY: Wendell Brock
PHOTOS: Sara Hanna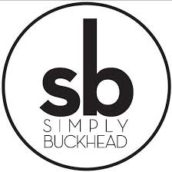 SimplyBuckhead
Simply Buckhead is an upscale lifestyle magazine focused on the best and brightest individuals, businesses and events in Buckhead, Brookhaven, Sandy Springs, Dunwoody and Chamblee. With a commitment to journalistic excellence, the magazine serves as the authority on who to know, what to do and where to go in the community, and its surroundings.