Teaching kids the principles of yoga.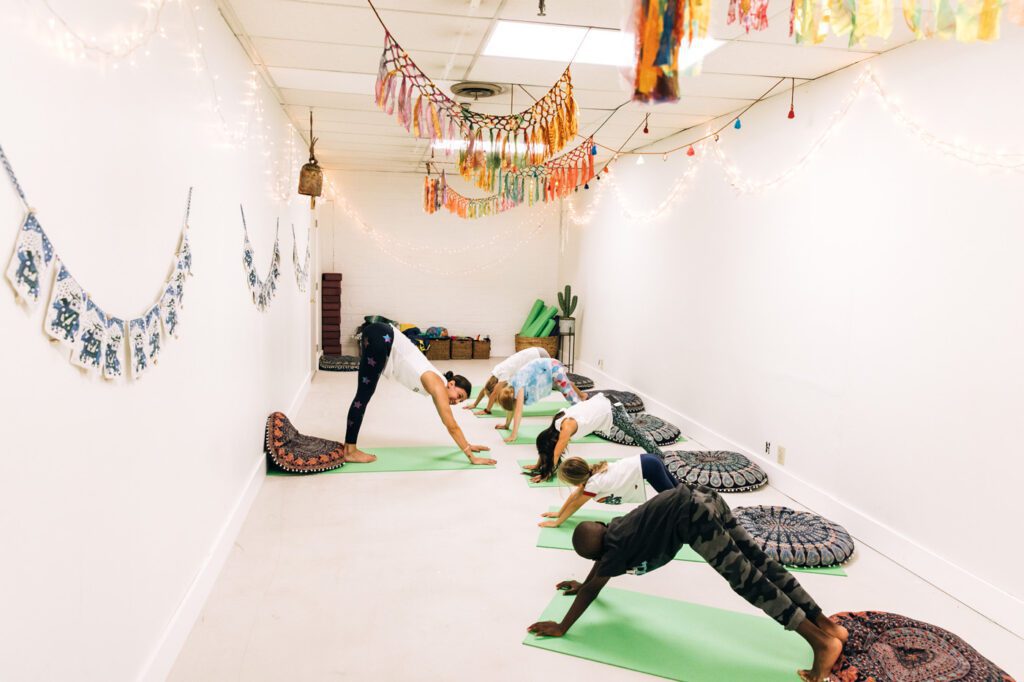 Surprise: Yoga isn't only for adults. Yet just like mom and dad's practice, yoga can help children of all ages "build balance, strength and endurance," says Mercedes Ervin, managing partner and yoga instructor at Oodazu, a kids' activity, yoga and party venue. Beyond the physical benefits, it "teaches self-control, self-awareness and patience; develops self-esteem and confidence; and improves focus, concentration and relaxation," says Ashley Cocchi-Miller, instructor at The Studios Brookhaven, a performing arts school where one of the most popular offerings is yoga for kids.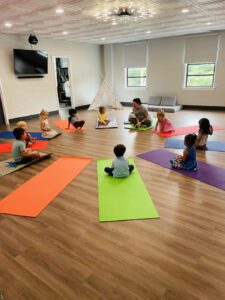 Think your little one is too wiggly or your pre-teen wouldn't dig it? Here's what these sage yoga instructors have to say about engaging kids in the practice, as well as other considerations for parents.
The Right Age
As soon as your mobile wee one is able to attend a class is a fine time for them to start. Cocchi-Miller teaches kids as young as 2.5. "Kid yoga is a lot different than adult yoga. It's more playful and not strict on alignment," she says. "We do mindfulness and concentration games, and teach pranayama breathwork in a fun way."
Find a Teacher
Whether at a studio or for a private lesson, find a teacher who has completed their 200-hour yoga certification, as that's the technical requirement to teach a yoga class of any kind. Bonus points for an instructor who also has taken kids yoga teacher training. Beyond the yoga-specific skill set, look for someone who has an energetic yet calming personality.
Fun with Movement
Like any class, the routine will vary from instructor to instructor. Generally, you can expect your child's session to have a mixture of age-appropriate postures, stretches and breathing exercises. Cocchi-Miller likes to get creative to engage kids. That might entail having young ones make animal sounds with the poses (think downward dog with barks) or offering more challenging poses, such as crow (an arm-balancing posture) to engage pre-teens and teens. Even teaching something as simple as sitting varies from age to age. "For the younger kids, I don't worry about how they're sitting; I just tell them to sit. I have the 5- to 8-yearold group sit crisscross applesauce or on their feet in hero's pose. Ages 9 to 12 and teens, I instruct them to sit up properly and grow their spines tall," says Cocchi-Miller.
Calming Meditation
Typically done at the end and/or beginning of every yoga class no matter the age, savasana is incorporated as a relaxing, meditative posture. Teens especially benefit from this, notes Cocchi-Miller, as "they come in with so much [on their minds] and need time to quiet down and get in touch with themselves." Since meditation might be difficult for the littles to do on their own, Cocchi-Miller prefers to do a guided relaxation story such as imagining themselves on a magic carpet ride.
Learnings for Life
Many of yoga's mindfulness tools translate to daily life. To practice this, Cocchi-Miller presents children with relatable scenarios and engages them in role play. For instance, she teaches young kids about a "bunny breath"—picking up an imaginary carrot and sniffing it three times and letting out a big sigh—when they experience a temper tantrum. "Through yoga, children learn that they can self-regulate their emotions, feelings and mood. Ultimately, it helps them create more awareness of mental and emotional states," she says. Grownups might be able to learn a thing or two from their yogi babies after all.
OODAZU
404.565.0259
oodazu.com
@oodazu
THE STUDIOS BROOKHAVEN
678.224.1810
thestudiosbrookhaven.com
@thestudiosbrookhaven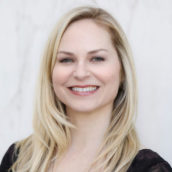 Karina Antenucci
Managing Editor and Wellness Columnist at Simply Buckhead. Blogger at Badass + Healthy.