SKIP THE GRAPES, AND LEARN HOW TO MAKE A COUNTRY WINE
BY: Karon Warren
If you thought you needed grapes to make wine, think again.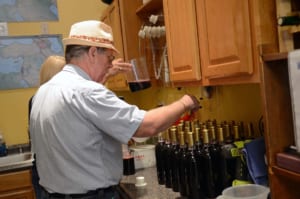 Beer & Wine Craft in Sandy Springs, which proffers home-brewing, wine-vinifying and cheese-making supplies, offers half-day, hands-on Country Wine Making classes on creating wine from other fruits. Students learn how to accurately measure the sugar content, acidity and other characteristics of various fruits to see if they're at the right levels to create the correct fermentation, flavor and aroma necessary to produce a proper "country wine." They also learn techniques to adjust these characteristics.
Classes are scheduled for July 14, Sept. 15, Oct. 13 and Nov. 17; registration required. Other wine-making classes and experiences are available.
July 14, Sept. 15, Oct. 13 and Nov. 17, 10:30 a.m.–1 p.m.
$40 per person
Beer & Wine Craft
220 Sandy Springs Circle
Sandy Springs 30328
404.252.5606
beerandwinecraft.biz/wine-making-classes