A FIRST VISIT TO HAWAII AWAKENS ALL SENSES.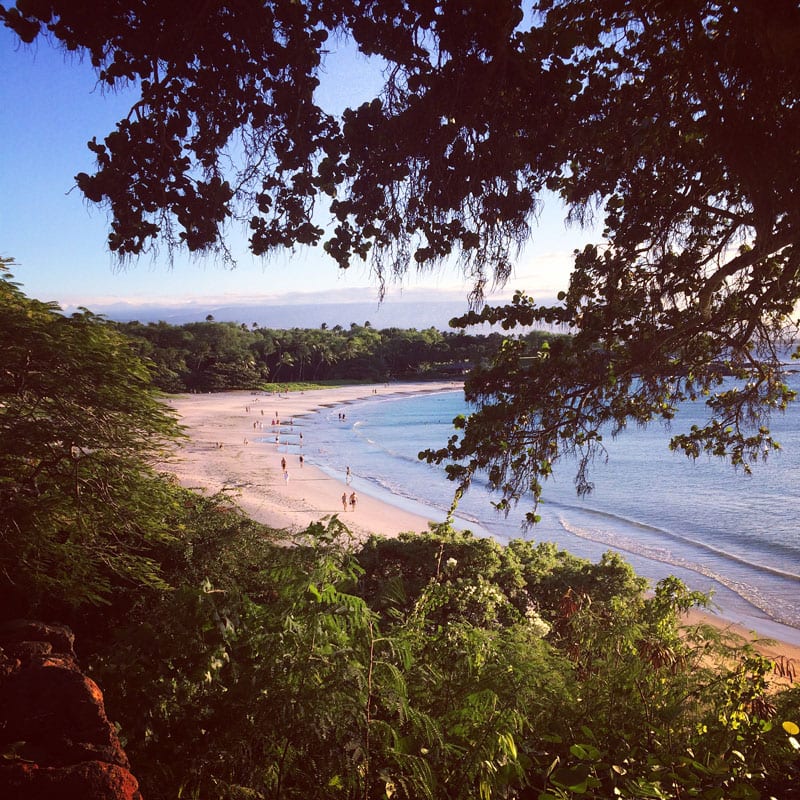 We're not even halfway into our nine-day jaunt around The Aloha State, and we've already sipped Kona coffee, chased waterfalls, hiked lava holes and wended our way up and down the side of a volcano in a rental car. Nearing the end of a bright, crystalline December day on the island of Hawaii (aka the Big Island), we arrive at Volcano House, a rustic inn, restaurant and cocktail lounge overlooking the Halema'uma'u Crater at the top of Kilauea, the most active of the five volcanoes that form this enchanted isle.
Perching ourselves on barstools beside the panoramic window of Uncle George's Lounge inside the lodge, we order Blue Hawaiians and Volcanoes and stare at the wisps of smokes trailing from the crater, which will soon glow like a fiery jacko'- lantern. With apologies to James Taylor: I've seen fire, and I've seen rain. I've seen sunny days that I thought would never end. But I'll be darned if I ever thought I'd see a view like this. Aloha! And welcome to Hawaii, me!
If I had to pick a moment that defined my miraculous maiden voyage to this isolated Pacific paradise, this would be it. And if I had to choose a pair of traveling companions, I could not do better than my friends Dan and Steve. Former Atlantans who now live in New York City, they are the best traveled people I know. So when they invited me to join them on their fourteenth visit to the fiftieth state, it was a one-of-a-kind hula-palooza that I couldn't dare miss. These intrepid adventurers have mastered the art of the nine-day blitz: They always opt to spend a good chunk of time on a single island and end the stay with a Honolulu weekend. Lucky for me, they let me pick the island, and The Big Island beckoned. (Next time: Maui.) It would take an encyclopedia for me to describe every palm-swept moment, meal and Mai Tai. So here is an annotated tip sheet of some of the most memorable experiences of our two port o' calls:
THE BIG ISLAND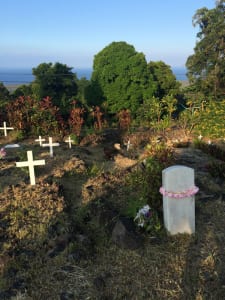 1. The Painted Church.
Start your stay on the sunny, Kona side of the island, where high- and lowend resorts are plentiful. Grab a cup of delicious local coffee, and head to this tiny gem-like church and graveyard, where the dead have a view of the Pacific for all eternity. Officially known as St. Benedict, the church was founded by a Belgian priest in 1899, at a time when most Hawaiians could not read English. The priest instructed them in Christianity by painting lovely scenes on the church walls. The graveyard is studded with simple white crosses and the occasional marble tombstone. I saw one such marker hung with a single pink lei.
2. Resort drive & dinner at the Four Seasons.
Even if you can't afford a posh hotel, you can stop for a look-see and dinner. About 45 minutes north of Kona, through a landscape of hardened black lava, is the Mauna Kea Beach Hotel, opened by Laurance S. Rockefeller in 1965 and recently restored to its retro grandeur. I could have lingered forever among the floating stairways, meandering koi ponds, Buddha statues and gorgeous palms. But we had dinner reservations at the not-too-shabby Four Seasons nearby. At the al fresco 'Ulu Ocean Grill by the Pacific, you can sip cocktails, nosh on sushi and divinely fresh local fish (miso-glazed kampachi, roasted pineapple mahi) and finish with pineapple poke prepared tableside. To go with that crazy good dessert of compressed vanilla pineapple, Meyer-lemon pound cake, goat-cheese ice cream and white chocolate crunchy brittle, what better than a cup of Kona? Brews from four nearby farms on the menu.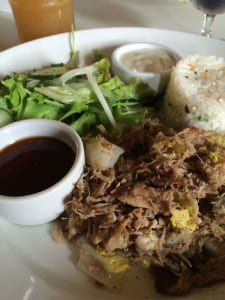 3. Lunch at Merriman's & Akaka State Falls Park.
Driving west toward Hilo, we toured Parker Ranch (Hawaii's largest) and had lunch at Merriman's Waimea, chef Peter Merriman's flagship restaurant. There, I had my first bite of Hawaiian barbecue (kalua pig, served with macadamia rice), and for dessert, we indulged in pineapple and toasted macadamia bread pudding and lilikoi (passion fruit) mousse with macadamia shortbread. This was plenty to hold us over for the drive to Akaka Falls, a breathtaking, 442-foot spray that's more than twice as tall as Niagara.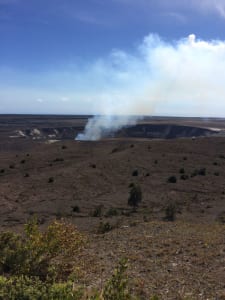 4. Hawaii Volcanoes National Park.
The best thing to do here is just drive around, from the top of the volcano to ocean's edge. Don't forget to trip through the lava holes and stop off for a drink at Volcano House, the rustic lodge that dates back to 1849.
5. Loco moco and mac nuts.
One day for lunch, we stopped at Cafe 100, a little walk-up restaurant in Hilo famous for its 30 kinds of loco mocos. Loco moco, lest you didn't know, is one of those weird, only-in- Hawaii dishes consisting of a scoop of rice topped with a hamburger patty, a fried egg and brown gravy. That was the original. The version I tried— with teriyaki pork and a sunny side up egg—was delicious, filling and cheap. What better way to top off this flavor bomb than a visit to the Mauna Loa Macadamia Nut Corp., about 5 miles south of Hilo? After driving through miles of orchards, we peeked into the nut shelling and packing plant and then stopped by the kitchen/gift shop for some treats. My favorite guilty pleasure? The Cookies & Crème-flavored mac nuts! I know, right? Come on and do the maca-loco-moco with me!
HONOLULU

1. Helena's Hawaiian Food.
This local-eats diner, which won the James Beard Foundation's regional classic award in 2000, comes highly recommended and will not disappoint. Here you can sample all the Hawaiian staples: poke, lomi salmon (a salad of fish and tomato), pipikaula beef short ribs, and poi, the starchy taro root mash that turns a light purple and tastes slightly sweet. Keep in mind: cash only and no alcohol.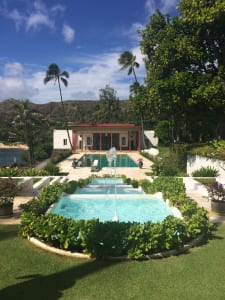 2. Doris Duke's Shangri La.
The wealthy heiress fell in love with Honolulu on her first honeymoon in 1935 and went about building a gorgeous villa near Diamond Head. She filled it with Islamic art, and today it is maintained as a house museum. Tours originate at the Honolulu Museum of Art (a great place to have lunch), and must be reserved in advance. Two words of advice: Go there. It will take your breath away.
3. Dinner at Alan Wong's.
Arguably the most important restaurant in Hawaii, Wong's first location is on the third floor of an office building—with no parking and no ocean view. Who cares? The food is killer. Start with a cucumber martini or passion-fruit mojito and a local butter sampling. Then move on to nori-wrapped tempura ahi, pristine native fish, twice-cooked short ribs, macadamia-and-coconut-crusted lamb chops, and so on. All terrific!
4. Diamond Head.
You may huff and puff climbing this 761-foot volcanic cone, but the soaring views of Honolulu and beyond are worth every breath. After the hike, consider driving east along the Pali Highway for magnificent views far from the bustle of Waikiki. Another option: Head to the Punch Bowl crater, where the National Memorial Cemetery of the Pacific overlooks downtown and the ocean, and then on to Pearl Harbor.
5. The Bishop Museum.
The state's largest museum was originally created to house heirlooms of the deposed monarchy, and those mementoes of Hawaii's vanquished royalty are splendid and poignant. Today, the Bishop spreads over a large campus and includes gardens, a planetarium and comprehensive natural history and culture collections.
IF YOU GO…
THE BIG ISLAND
Where to stay:
Ala Kai – We loved the Ohana Cottage at this bed and breakfast on the rugged Puna Peninsula. The two sweet inn keepers serve an amazing breakfast each day, and you are an easy drive from Hawaii Volcanoes National Park and other destinations on the eastern side of the island. alakaibb.com
Mauna Kea – princeresortshawaii.com/mauna-kea-beach-hotel
Where to eat:
'Ulu Ocean Grill at the Four Seasons:
uluoceangrill.com
Merriman's Waimea
merrimanshawaii.com/waimea
What to visit:
Hawaii Volcanoes National Park
hawaiivolcanohouse.com
The Painted Church
thepaintedchurch.org
HONOLULU
Where to stay:
Pacific Beach Hotel – High-rise hotels are a dime a dozen on Waikiki. We liked this one for its value and location, just a walk away from many landmarks and great shopping. pacificbeachhotel.com
Where to eat:
Alan Wong's
alanwongs.com
Cafe 100
cafe100.com
Helena's Hawaiian Food
helenashawaiianfood.com
Maona Loa
maunaloa.com
What to visit:
Doris Duke's Shangri La
shangrilahawaii.org
The Bishop Museum
bishopmuseum.org
For more information: dlnr.hawaii.gov/dsp/parks nps.gov/havo
STORY & PHOTOS: Wendell Brock
SimplyBuckhead
Simply Buckhead is an upscale lifestyle magazine focused on the best and brightest individuals, businesses and events in Buckhead, Brookhaven, Sandy Springs, Dunwoody and Chamblee. With a commitment to journalistic excellence, the magazine serves as the authority on who to know, what to do and where to go in the community, and its surroundings.