SPANISH-BORN BRAND UNODE50 TALKS MEN'S ACCESSORIES TRENDS FOR 2020
STORY: Muriel Vega
With the widening of fashion and its influencers within the industry thanks to social media, the spectrum of accessories available in the market can match any personal style, no matter how outside the box it is. That's at the heart of Madrid-based brand UNOde50 (Spanish for "one of 50"), which has a shop at Lenox Square. "The brand was essentially responding to this need for a style of jewelry that broke away from the traditional or conventional," says Justin Brown, an UNOde50 brand representative.
When the company launched in the late '90s, each collection consisted of only 50 units that combined different materials to maintain the quality and unique personality of UNOde50. The brand evolved to offer more pieces and more inventory as popularity grew, but it kept the namesake 50-itemsonly for its limited-edition collections.
Motivated by his own bold, creative style, creative director José Azulay focused on handcrafted jewelry pieces inspired by the seasons. The use of leather and other materials, such as crystals and pearls, defines the line's DNA. "The inspiration behind each collection is essentially storytelling of each season and our customers' individuality," says Brown. "For the fall/ winter collection, 'my squad' is the focus. [It relates to] the people and things that matter to you most and helped you get to where you are."
The "my squad" theme can be seen in the honeycomb motifs across the collection, but also in the concept of nature and how you perceive it with organic designs and natural textures. The spring/summer 2020 collection will explore Asia and gather inspiration from China, Japan and Indonesia. "We want to create something that feels special," says Brown.
While UNOde50 offers women's jewelry, the men's section has grown in popularity in recent years since guys are starting to express themselves and develop a style, says Brown. Here are the men's jewelry trends UNOde50 sees exploding this year.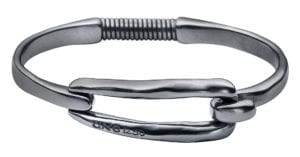 GENDERLESS
For 2020, the brand sees genderless bracelets, made with silver or gold plating, leather, small chains and unisex charms, growing in fashion among men.
Although they're not explicitly classified as "genderless" on their site or in the store, UNOde50 shares that men have been gravitating to the organic nature of how these unisex bracelets are molded and handcrafted into a minimalistic design.
---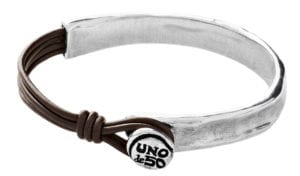 STACKING BRACELETS
"Stacking is a huge thing we encourage when guests visit our store, [and we suggest] mixing textures, something that's different from how women do it. [Men are] willing to take that risk," says Brown.
An associate can help guys select different materials as they stack. For example, a leather bracelet plus a silver-plated metal cuff and a mixed-material bracelet create a unique but cohesive style around the wrist.
---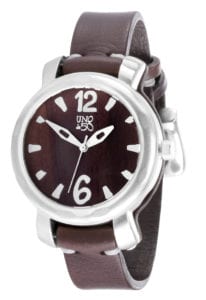 METAL CUFF WATCHES
"The guys who come into our store are interested in our watch design and the handmade quality. It doesn't quite look like a traditional watch," says Brown. What stands out in UNOde50's watch collection is the metal cuff instead of a watch strap. It looks more sophisticated and syncs up with the rest of the jewelry. The face of the watch remains simple, with thick lines and subtle colors. "It's not too complicated," says Brown. "It's easy for a guy to gravitate toward and make it a conversation piece."
UNODE50
3393 Peachtree Rd. N.E.
Atlanta 30326
470.705.8150
unode50.com
Muriel Vega
Atlanta-based tech and culture writer with an undying love for Buford Highway and its multicultural communities.