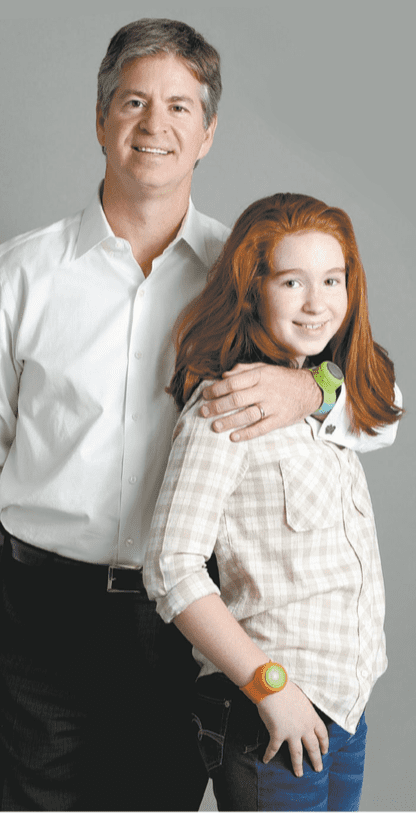 What I sell: We have a patent on the first wearable Bluetooth speaker in a slap band.
Where my product is available: Amazon (Click Here) and Learning Express stores in Atlanta. Jambanz for kids cost $29.99.
My five-year plan: "We are launching a Kickstarter campaign to help us develop massive distribution to big retail stores and a wider selection of designs.
Lee Killian, a former radio executive, used to power walk through airports in sleek gray suits on his way to business trips. He flew so much that he could find his way with his eyes shut. But after a family vacation to the mountains two years ago, Killian gave up his executive title for a new title: Inventor.
In April, he launched a revolutionary new product that now has him working from his Brookhaven home in khakis and loafers while his 10-year-old daughter plays nearby. His invention, Jambanz, is the first wearable Bluetooth wireless speaker on a slap band. The dad was inspired to create it after watching kids on his trip to Currahee Club near Toccoa try to talk and socialize while wearing headphones. "It was an awkward sight," he says Killian, CEO of Jambanz.
"I asked the kids, 'What if you had your own affordable Bluetooth speaker that would allow you to enjoy your music without the head- phones,'" Killian recalls. "We came up with the name Jambanz that night. The next thing you know, I was developing the product with partners, and we were selling Jambanz on Amazon."
Jambanz are inexpensive and easy to use. Kids can link Jambanz to their iPods or iPhones. The wireless technology allows them to play their music outside and still hear traffic or a parent calling them home.
"It's so cool," says Killian's daughter, Emma, who is learning the business with her dad. She pushes product just by wearing them to malls and outings with friends. "People are always asking me what it is."
Jambanz speakers are interchangeable from band to band so kids can match the candy colors with their mood. They come in tangerine, kiwi and black licorice. Five more colors will soon be added, including bubble gum and blueberry. Killian says sales are picking up. He says he sells "hundreds" of Jambanz each month.
An adult version, Jambanz Pro, will also be available that will play music and allow us-
ers to answer calls through Jambanz while jogging. "I am having the most fun I have had in years," Killian says of his life as an inventor. "This is like a dream come true. I always wanted to be an entrepreneur."