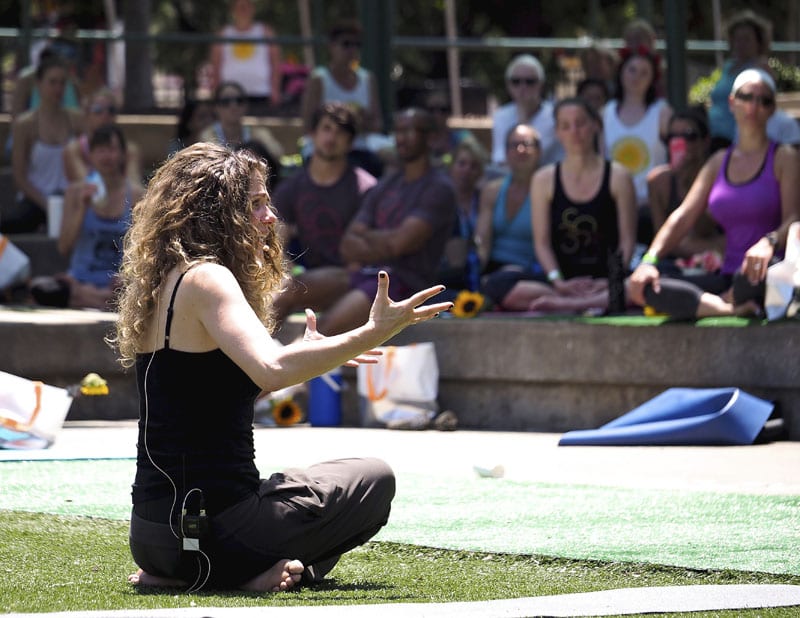 Calling all yogis! On Saturday, May 21, hundreds of women will come together to practice a half-day of yoga and support the Atlanta Women's Foundation (AWF). Striving to end generational poverty, AWF is the only public foundation in Georgia dedicated solely to women and girls. "One of the main goals of the overall event," explains AWF's Development and Events Manager Kelley Zinger, "is to increase awareness in our community about the 320,000 women and girls who wake up in poverty every day in the five metro Atlanta counties of Clayton, Cobb, DeKalb, Fulton and Gwinnett."
Taking place outdoors at Chastain Horse Park, Yogathon is a one-of-a-kind fundraising event in which participants will hear from acclaimed yoga teacher and activist Seane Corn, participate in various 20-minute yoga sessions, celebrate personal achievements through intention setting and raise money for AWF. Zinger says, "As a complement to our fall fundraising event, we were looking for a springtime event that would connect with the wider Atlanta community and bring greater awareness of AWF. One area we are focused on is helping women and girls in health and wellness, which led us to the idea of the Yogathon." In addition to Corn, Yogathon will feature nine local instructors. Leading the communal yoga class alongside Corn are familiar faces from the Buckhead area, including Carly Grace Hinchman, owner of Thunderbolt Power Yoga; Becky Nickerson, owner of Infinity Yoga; and Gina Minyard with Yoga Collective. Tickets to the event are $81 and include four hours of yoga instruction, an event shirt, access to health and wellness vendors, music and more. Yogathon offers advanced yogis and novices alike a mind-body experience aimed at not only warming the muscles, but also the heart.
YOGATHON
7 a.m. – 2 p.m., May 21
Chastain Horse Park
4371 Powers Ferry Road N.W.
Atlanta 30327
404.577.5000
atlantawomen.org/yogathon-participants
STORY: Nicole Letts
Nicole Letts
Wellness columnist at Simply Buckhead and dog columnist at Atlanta Pet Life. Lifestyle writer specializing in women's interests, travel, people and interiors.