The adventures of a pet portrait artist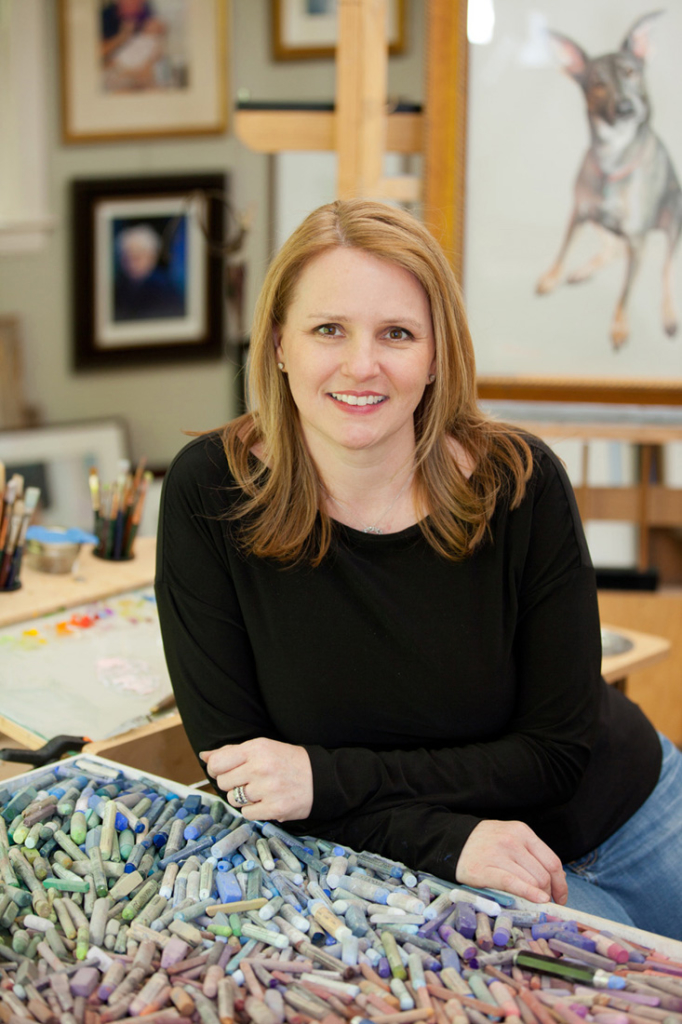 You swear your beloved pet is as pretty as a picture. Buckhead's Lisa Gleim will assure you that is absolutely the truth. The overwhelming love people have for their dogs and cats has helped her build a thriving business as a pet portrait artist. Gleim works in pastels, oil or charcoal, whichever medium clients want to create life-sized portraits of their pets. Her first subject was her own beloved family dog, Bonnie, whom she had to put down in 2001. Gleim's husband suggested she paint a portrait of Bonnie as a way to work through her grief. Someone saw that one painting, and her business took off from there.
"It never dawned on me that this would become up to half of my business, which also includes portraits of people," she says.
Lisa has developed a process for capturing the essence of each pet's look, personality and quirks.
She starts by going to the client's home and photographing the cat or dog. Then she Photoshops the image with the background the client wants. The whole process takes a week or more, depending on the season.
"I tell clients to get their Christmas orders in by October," Gleim says. "Valentine's Day, Mother's Day and Father's Day are also very popular times."
The portraits start at $450 for a charcoal head drawing and go up to $850 for an oil painting. Full body drawings and paintings go up from there.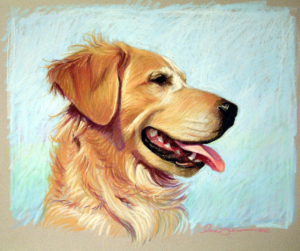 This career that Gleim never saw coming has brought her into some laughable situations.
"I did a photo shoot with a Jack Russell who would not perk up or give any good pose," she says. "The woman who hired me got her cordless phone and put her husband on speaker. Once the dog heard the husband's voice, he did anything the husband asked."
There was also a dog who was absolutely petrified of any kind of camera. Lisa had to bring her telephoto lens and sit on one side of a very large yard while the woman and her daughter sat on the other side with the dog, blocking any view of the camera. And she still laughs thinking of the little dog who would only follow commands if she said the word "chicken."
"'Chicken, chicken, chicken' got me the shots I needed to create the portrait," Gleim remembers.
She says the best part of her job is meeting the dogs and cats, and the people who are as crazy for their pets as she is for hers.
"Some clients will say, 'I'm so embarrassed. I'm having my dog's portrait done, but I've never done one of my kids.'"
As mother of an 11-year-old daughter, Gleim understands the love for both kids and pets. Her family includes two dogs: Ben, a 6-year-old plott hound, and Milo, a golden lab mix puppy.
She loves the emotional moment when clients see the portraits of their fur babies for the first time. "There are usually tears," Gleim shares.
"There is just something about a painting or a drawing. It captures something a photograph simply can't."
It's something she remembers each time she gazes at the portrait of sweet Bonnie, the dog who inspired one woman to capture the beauty of so many well-loved pets."Just having that portrait makes me feel better," she says.
STORY: Daryn Kagan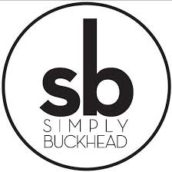 SimplyBuckhead
Simply Buckhead is an upscale lifestyle magazine focused on the best and brightest individuals, businesses and events in Buckhead, Brookhaven, Sandy Springs, Dunwoody and Chamblee. With a commitment to journalistic excellence, the magazine serves as the authority on who to know, what to do and where to go in the community, and its surroundings.