The Resort at Paws Up is the authority on experiencing Montana's wilderness in style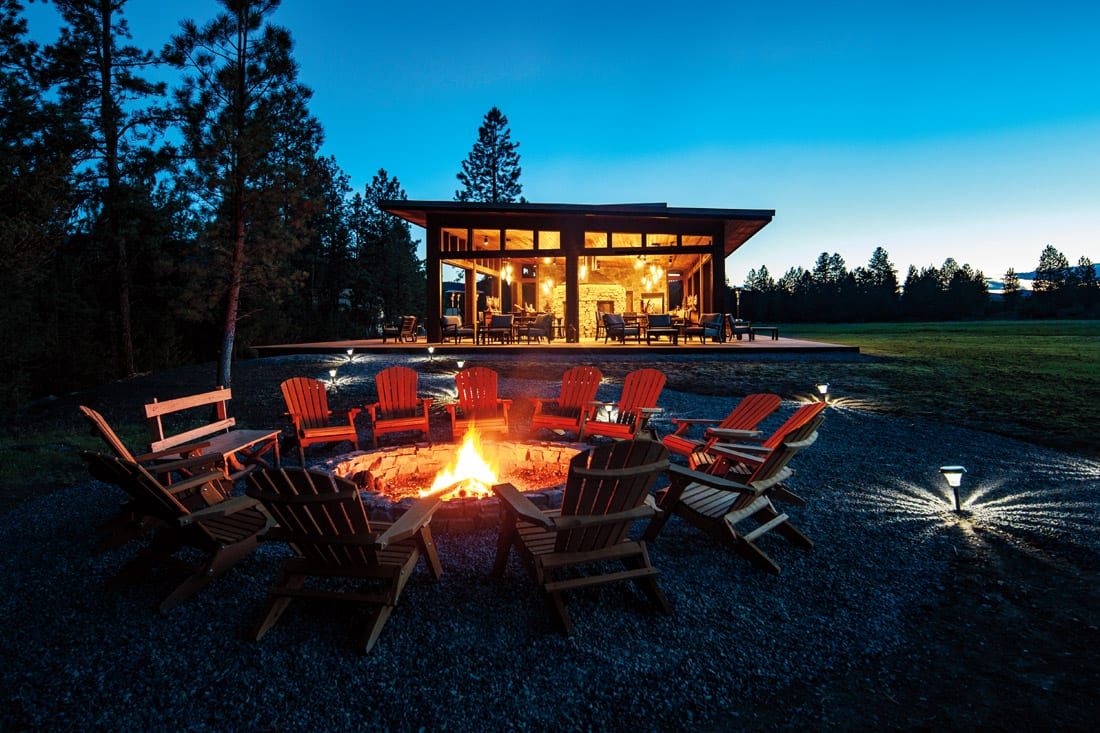 STORY: Jennifer Bradley Franklin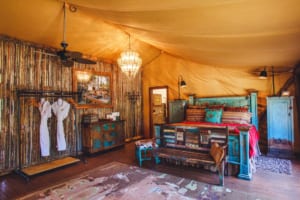 Anyone who knows me well knows that I don't camp. I can trace my distaste for sleeping outdoors to my first, and so far only, true camping trip in my early 20s. A friend organized the details ("It'll be fun," he said), but the reality included a 6-mile hike in the North Georgia mountains carrying a heavy backpack and scant dehydrated sustenance ("It keeps the packs lighter," he said), and fumbling in the chilly pitch black to use nature's "facilities." Still, I crave seeing wildlife up close, feeling the exhilaration of fishing in a teeming river or mastering a new skill. It's just that I prefer those things with the trappings of a proper shower, a cozy bed and a fresh meal.
So imagine my delight when a friendly camping butler at The Resort at Paws Up led the way to a 1,030-square-foot, two-bedroom canvas tent that included a plush king-size bed, river view and spacious bathroom, complete with heated tiles and a deep soaking tub. I shouldn't have been surprised. After all, the 37,000- acre property in western Montana's pristine Blackfoot Valley is credited for inventing the now ubiquitous travel category "glamping" ("glamorous camping"). For those who prefer a more permanent structure, the resort also offers cabins and estates of various sizes and bedroom configurations tucked among the majestic Ponderosa pines and Douglas fir trees that pepper the resort's rolling hills.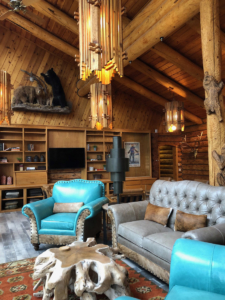 After settling in, I was eager to experience some of the dozens of activities offered. There's everything from archery and rappelling to whitewater rafting and hot air ballooning. My first order of business was to get the lay of the land by horseback. I saddled up for a tranquil hour-long trail ride as the sky changed from blue to shades of yellow and pink.
Back at Pinnacle Camp, my fellow glampers and I were in for an unexpected treat: That night around a communal fireplace, over Old Fashioneds made with local Fireweed bourbon, a pair of Nashville-based singer/songwriters joined us as part of the resort's Campfire Stars programming. Hearing Jessi Alexander, who has penned chart-toppers such as Miley Cyrus' "The Climb" and Blake Shelton's "Mine Would Be You," sing these hits, and her husband, Jon Randall, sing his hauntingly beautiful "Whiskey Lullaby" (famously recorded by Brad Paisley and Alison Krauss) was a moment I won't soon forget.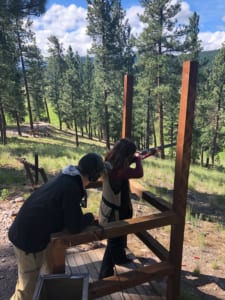 The highlights kept coming for the duration of my three-day stay at the service-oriented adventure property. I learned how to cut cattle (calling an animal out of the herd) on a three hour cattle drive. I spent a morning at a sporting clay course shooting a 20-gauge shotgun as neon targets released in various configurations tested my skill and concentration. Another day I bundled up for a four hour fly fishing float trip that at times passed through Class II rapids in the search for a trophy trout on the Blackfoot River, the same body of water that inspired Norman Maclean to pen A River Runs Through It.
Unlike on my ill-fated camping trip more than a dozen years ago, the food at Paws Up was a major pleasure. Every bite was memorable, though perhaps no meal more so than the dinner on my last night, when a vintage chuckwagon became the epicenter for a jaw-dropping meal. While chefs oversaw tomahawk steaks, ribs, corn and berry cobbler in cast-iron crocks over an open flame, the other guests and I tried our hands at hatchet throwing. As I listened to the rushing river and the happy chatter of new friends over a world-class meal, I knew I'd found my outdoor nirvana.
THE RESORT AT PAWS UP
pawsup.com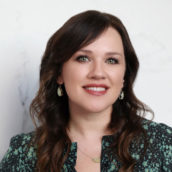 Jennifer Bradley Franklin
Senior Contributing Editor and Beauty Columnist at Simply Buckhead. Travel, Food and Design Writer and Author.