Exfoliating body scrubs help you flaunt glowing skin this summer.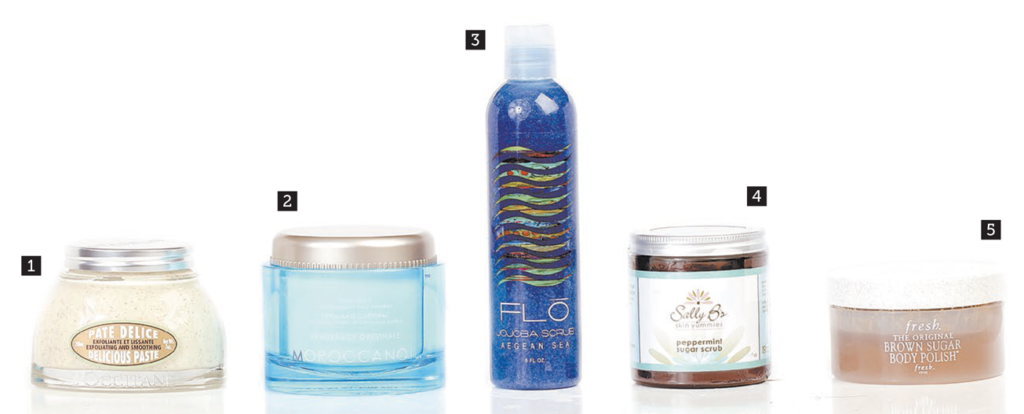 Who doesn't want softer skin, especially during the summer? These amazing scrubs will leave your body smoother and healthier by gently removing old, dry skin cells. Exfoliation is a key ingredient to a good body care routine and is the secret to a radiant glow during the skin-baring summer months.
1. L'Occitane: Almond Delicious Paste ($42)
Just a whiff of this superb smelling almond scrub is enough to make you happy. The nutty scent of almonds mixed with a hint of vanilla is almost good enough to eat. It's not a hardcore, overly abrasive scrub, but it's still effective. The creamy paste contains almonds sourced from the mountains of Provence, France. The rich blend combines almond butter, almond oil, crushed almond shells and sugar crystals. The result is a fine paste that sticks to the skin, even when wet, which means less waste and more effective scrubbing.
262 Buckhead Avenue N.E.
Atlanta 30305
404.869.8400
usa.loccitane.com
2. Blue Mercury: Moroccanoil Body Buff ($52)
If you are familiar with the miracle elixir that is Moroccan oil, you will love Body Buff. The gentle exfoliating scrub blends nourishing vitamin E with Argan Oil, derived from the nut of the Argan tree, and is rich in essential fatty acids. The exfoliation comes from pieces of orange peel that gently polish and eliminate dead skin cells while leaving a sweet orange blossom scent on the skin. The best way to apply this body buff is to scrub on before getting in the shower, allowing the oil to soak in and soften the skin. This buff is light and perfect for sensitive and dry skin types.
37 West Paces Ferry Road N.W.
Atlanta 30305
404.467.9100
bluemercury.com
3. Spa Sydell: Flo Aegean Sea Jojoba Scrub ($14)
Treat yourself to a spa day in the privacy of your own home with Spa Sydell's Flo scrub. Packed with vitamins A, C and E, the jojoba oil and geranium extract contains tiny circular scrubbing grains that gently exfoliate and energize sensitive skin. Aegean Sea is a calming blend of marine and floral scents, including soothing jasmine and fig that make it perfect for relaxing in the evening before bed.
1745 Peachtree Street, Suite M
Atlanta 30309
404.255.7727
spasydell.com
4. Sally B's Skin Yummies: Peppermint Sugar Scrub ($48)
This certified 100-percent organic and cruelty-free scrub has the thick consistency of body butter. Perfect for dryer skin types, the creamy Shea butter moisturizes skin while the sugar gently exfoliates. The peppermint feels fresh and cooling during the hot summer months, too.
800 Miami Circle N.E., Suite 110
Atlanta 30324
877.344.4537
sallybskinyummies.com
5. Neiman Marcus: Fresh Brown Sugar Body Polish ($67)
This rich and intense exfoliating scrub buffs away dry skin cells with the restorative, antibacterial properties of raw sugar. The sugar granules are coarse but don't feel overly harsh due to the base combination of evening primrose, sweet almond, apricot kernel and jojoba oils. The smell alone makes it a pleasant experience, but the result of smooth, sweet smelling skin will have you hooked.
Lenox Square
3393 Peachtree Road
Atlanta 30326
404.266.8200
neimanmarcus.com
STORY: Jessica Dauler
PHOTOS Sara Hanna