A young Buckhead family puts down roots in a stylishly renovated ranch
By Giannina Smith Bedford | Photos by Sara Hanna

From the outside, the Lovells' West Buckhead home looks like a typical brick ranch. Step inside the 3,600-square-foot interior, however, and you'll quickly see it's anything but. After two addition-renovations and an exquisitely curated design by mother of two and part-time commercial actress Sara Lovell, the 5-bedroom, 4-bath haven is a homey, yet chic sanctuary with more than enough space for kids—and adults—to have fun.
Sara and her husband, Thomas "Wood" Lovell Jr., a human resources leader for McKesson Corp., met at a University of Georgia football game and married in 2006. After living in what Sara called Wood's "ultimate bachelor pad"—a 1940s ranch that had seen the likes of 11 male roommates over the years—they purchased the original 2,100-square-foot house in 2007. Although Sara had some initial decoration help from a friend, now Austin, Texas-based designer Jennifer DiPasquale, she used her own stylish eye for much of the beautification, incorporating everything from repurposed antiques and junk store finds to family heirlooms. But after welcoming their first child, Wood Jr., in 2010 the couple quickly realized they needed more space to live comfortably.

"We would watch TV in our more formal living space with swings and play mats close by and laundry stacked all around us," Sara says. "We decided very soon after having our son that we needed to either consider a new home or make this our 'forever home' with space for grown-ups and kids both to unwind." The Lovells opted to stay put, enlisting builder William Davis of William Davis & Son to add a master bedroom, bathroom and walk-in closet as well as a downstairs playroom in 2010. The nearly four-month project was a big one to take on with a newborn in tow, but the L-shaped extension allowed about 90 percent of construction to take place without the Lovells having to move out.


Today, the spacious master with oak floors and a seating area is a honeydew-hued respite amid busy family life, which now also includes running after 2-year-old daughter Witt. "This room I love and it's so calming," Sara says. "Life is so fast right now that I often walk in here and nearly face-plant on the bed." The master's furnishings include an antique dresser and a writing desk gifted from each of Wood's grandmothers, and a Craigslist-purchased bench. Mounted on the wall above the custom headboard is one of Sara's beloved touches: a large basket discovered at St. Simons Island's 1610 Antiques. "It required [my husband] to repack our car a lot more creatively on the way home," Sara says. "I love the fact that I think of our favorite vacation spot every time I look at it."
Wood, who Sara says "indulges her almost every whim" for their home, also played a big role in the
40-by-60-inch abstract artwork hanging in the bedroom. He commissioned the green and white oil and wax piece from artist and friend Kristen F. Davis for Sara's 33rd birthday. Like the homeowners, visitors to the Lovell house also get a heavenly place to rest their heads. The downstairs guest room is a treasure-filled refuge outfitted in special finds—from the $1 garage-sale lamp Sara spray-painted white to the distressed yellow chest rescued from her mom's Dahlonega barn.

Next door, the "playroom" is the best of both worlds for kids and adults. With built-in cabinets stocked with toys, a big-screen TV and no-fuss furniture from IKEA and Craigslist, it's a stylish hangout where spilling a drink won't get you in trouble. Another place for less-than-perfect behavior is the upstairs screened porch the Lovells added in 2013. Connecting the kitchen, breakfast room and master bedroom in a space previously occupied by a deck, the porch's zinc-topped island, Costco and IKEA furniture, and accents from HomeGoods, Etsy, Zentique and Target create a preferred gathering spot. "We enjoy it about nine months out of the year with a fireplace, radiant heaters, and a Big Green Egg—it has truly transformed into the heart of our home," Sara says.
The heart of the Lovell home also exists in the artworks strewn across its walls (many by Wood's mother, an artist and former Latin teacher at The Lovett School); black-and-white images of loved ones (including some naked babies); and the furniture, 90 percent given to them by Wood's father and stepmother. "We'd be sitting on lawn chairs in the middle of our living room if it weren't for them," Sara says. Some of Sara's most prized art pieces are the 1940s charcoal portrait of Wood's grandmother, Clementina, in Witt's
bright-green nursery—"I love the fact that this beautiful picture connects generations and gets admired daily," Sara says—and a portrait of Wood and his brother, Will, their mother paid them each about $7 to sit for."Our kids can pick out Daddy and Uncle Will 30 years later just by glancing at them because their likeness was captured so well," Sara says.
Although the Lovell abode has gone through various evolutions and will continue to change—summer plans include adding a mudroom and laundry room where the carport now sits and redoing the home's facade—the walls and roof of the residence encapsulate who this family is, where they've been and their current stage of life. "Our home is a collection of us—intrinsically priceless artwork, sentimental furnishings, photos, precious memories, trips, lots of treasure hunting and some imperfect rips, scratches and smudges," Sara says. "We've evolved completely from when we first bought the home but we've never wanted to leave this space for anything new. Instead, we've made it what we needed over time and we intend to be here for many years to come."
Sara Lovell's favorite thrift store and antique haunts

Scott Antique Market – "Scott's will always be a favorite! I may not leave with a treasure each time I go, but I always get a little inspiration so the $5 entry ticket is the best buy in town." 
Antiques & Beyond, Cheshire Bridge Road – "If I had a day to enjoy to myself, Antiques & Beyond would definitely be on my 'To Do' list. The variety of vendors under one small roof is fantastic."
Any Goodwill location – "I can't count how many times I've seen something at Goodwill that, with a little paint or upholstery, would be right at home on the pages of a décor magazine. You have to be willing to go frequently and have a sense of adventure, but I've gotten some great pieces from Goodwill." 
Gateway Antiques, Dahlonega, Ga. – "Gateway is a great little spot for accents and furniture and the prices are wonderful. I've purchased amazing antique nautical flags there for $10 apiece and beautiful ship blueprints for $1 apiece."
Any Habitat for Humanity ReStore – "Like Goodwill, a Habitat ReStore is the type of place you have to scout often and with a 'think outside the box' vision. Some of my favorite pieces (antique bakery scale, beautiful antique glassware, faux bamboo magazine rack, etc.) have come from a Habitat ReStore."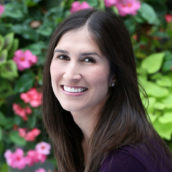 Giannina Bedford
Giannina S. Bedford is multi-faceted writer and editor. Her work covers design, travel, food and business. She's penned Simply Buckhead's home feature since inception and held a variety of editorial roles at the magazine. Her freelance work has appeared in Condé Nast Traveler, USA Today, Virtuoso Life, Hemispheres and TravelandLeisure.com. She also contributes regularly Atlanta Business Chronicle. Fluent in Spanish, Giannina was born in Miami and grew up in Brazil, Chile, Hawaii and Australia. She currently lives in Dunwoody with her two kids and husband.