A Brookhaven couple's inviting home is tailor-made for family
By Giannina Smith Bedford | Photos by Sara Hanna
To Sherri and John Dickens, Brookhaven is home. Since moving into the neighborhood nearly a decade ago, they've watched it change from a district of quaint two- and three-bedroom homes to a sought-after ZIP code of large custom-built residences. And the Dickenses are part of that transformation. Five years ago, they traded in their 800-square-foot bungalow for a 4,200-square-foot abode.
Sherri, a partner stylist with Edit By Lauren Wardrobe Consulting, met John, a senior vice president with Franklin Square Capital Partners, in 2003, the day she moved to Atlanta from Athens, Ga. After a whirlwind five-month courtship and nine-month engagement, the couple married and settled in Brookhaven with their first baby, dog Jackson. Their cozy two-bedroom, one-bath residence was a perfect starter home, but once they decided to start a family, they knew they needed more space. In 2008, the Dickenses purchased a vacant home on a one-third-acre lot just one street over, tore it down and began working with Brian Sullivan of Stillwood Properties and architect Chad Mattison to build a five-bedroom, four-and-a-half bathroom residence. The design goal: an American Foursquare-style dwelling with ample closet space, an open floor plan and screened-in back porch. "We wanted something that was a little more classic, but not too grandiose," John says. "Entertaining and being together as a family drove a lot of the design."
The Dickenses moved into their new home in April 2009, five months before welcoming daughter Ally Grace to the family. They worked with Stillwood Properties to pick out paint colors and finishes, but signed on interior designer Jessica Duncan—whom they met through a mutual friend—to help with additional furniture and accessories. Today the home's rural chic-style interior is filled with modern and industrial pieces.
"It's styled in a way that's unique and interesting, without being fussy. Perfect for a night at home with the family or entertaining friends," Duncan says.
One of Duncan's first projects was outfitting Ally Grace's nursery. Six months ago she redecorated the nursery into a "big girl room" for the now 4-year-old. Furnished with a double-sized daybed, the room's accents include a wall-mounted king headboard, an industrial metal letter A from Zentique and a light fixture Duncan created from an upside-down vintage ice bucket.
Ally Grace's move from crib to bed was inevitable, but part of the revamp was timed for the anticipated arrival of John Bowen "Bo" Dickens, the newest addition to the Dickens clan, born Jan. 27. Duncan was also the stylish mind behind Bo's boyishly fun nursery, which she designed by repurposing some nursery furniture. Duncan hired an upholsterer to reshape Ally Grace's glider from a round to a square back and re-cover it in khaki fabric. Duncan also repainted her crib white and changing table gray with a lime wash for reuse. Like his big sister's room, Bo's nursery features his first initial on the wall as a large metal letter. A futuristic-looking sphere pendant light from CB2 illuminates the entire space. Mounted on the wall are elephant, moose and deer trophy heads made from cardboard that John purchased from Uncommon Goods and spray-painted white. One of Sherri's favorite accents: the Sugarboo Designs print above the changing table of a white dog with positive affirmations written in the background.
"One thing I really like with Jessica—and we've done both nurseries—is that she never makes it look babyish," Sherri says. "It's a room I'd want to live in. This is my favorite room in the house."
Sherri's other beloved room is her spacious living room. With a brick fireplace, picture-perfect window seat and furniture in earthy browns and greens, it's a welcoming place for family gatherings. The adjoining kitchen also becomes popular during get-togethers. Guests often gather around the large center island done in distressed black cabinetry, white and gray granite countertops and farmhouse sink. Above the kitchen's FiveStar range, a framed elephant print from Sugarboo Designs conveys the sentiment "Life is Beauty Full" putting into words how the Dickenses feel when spending time with friends and family.
"My home is definitely my haven. It's where we started our family, and that will always make it special to me," Sherri says. "We were fortunate enough to be able to design it to fit our needs, and the number of memories we've made as a family, and with our friends, is something I truly cherish."
Many memories are also made in the breakfast nook—outfitted with a banquette from Ballard Designs and a table from World Market—or around the dining room's Pottery Barn farmhouse table. Where the Dickenses spend much of their time during the week, however, is in their home offices, both designed by the team of HGTV's Elbow Room, which featured the home in April 2012. As part of the show, designers renovated the basement into a work space for John complete with a subway-tiled roof (inspired by Buckhead's Chops Lobster Bar), swiveling flat-screen TV and custom desk set atop a platform made to look like stacked wood planks.
Like Brookhaven's evolution, the Dickens family's home has changed over time. And like the continued transition of their community, their home will continue to morph. The next project on the docket: a first-floor playroom for Ally Grace and Bo.
"This is the house where I brought both of my babies home," Sherri says. "It has evolved into a kid-friendly space, yet still feels like a true haven for the adults."  –  Giannina Smith Bedford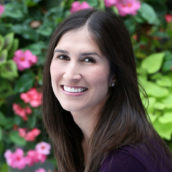 Giannina Bedford
Giannina S. Bedford is multi-faceted writer and editor. Her work covers design, travel, food and business. She's penned Simply Buckhead's home feature since inception and held a variety of editorial roles at the magazine. Her freelance work has appeared in Condé Nast Traveler, USA Today, Virtuoso Life, Hemispheres and TravelandLeisure.com. She also contributes regularly Atlanta Business Chronicle. Fluent in Spanish, Giannina was born in Miami and grew up in Brazil, Chile, Hawaii and Australia. She currently lives in Dunwoody with her two kids and husband.