The Classic City, revisited
An Athens homecoming
By Jennifer Bradley Franklin
Ever since my days at the University of Georgia, Athens has always felt like home. Though I'm happily installed in a just-built home here in Atlanta, I feel the pull of that all-American city to the northeast. Just an hour-and-fifteen-minute drive, it seems a world away from the bustle of Buckhead's streets. Athens marches to the indie beat of its own drum, a melody infused with great food, a hip music scene, tree-lined downtown streets, up-and-coming breweries and charming shops.
On a recent weekend visit I dove into the city with gusto, like a child tearing through birthday presents and trying to fit all of my favorite things—and a few new discoveries—into just two days. My first stop was Jittery Joe's Coffee, where the ultimate
indulgence is their decadent Yin Yang Mocha, a creamy blend of dark and white chocolate, steamed milk and locally roasted espresso. A stroll through the University's north campus, which borders downtown's main thoroughfare, Broad Street, was the obvious next choice. Its wide lawn, bordered by historic buildings (founded in 1785, UGA is the oldest state-chartered university) is a popular place for picnics, outdoor lounging and pick-up Frisbee games.
Athens was the city that gave Chef Hugh Acheson his Southern start (the Top Chef judge lives in town) and his newest restaurant, Cinco y Diez, is a triumph. With Chef Whitney Otawka at the helm, the quaint, dimly lit restaurant offers complex cocktails (the "South by Southwest" packs a punch with bourbon, chipotle morita, cumin and citrus) and playful, creative Latin fare. After a delicious dinner of a fried banana with queso fresco, banana vinegar and toasted pistachios and spice-rubbed sirloin with green garlic chimichurri, it was time to indulge in one of the pastimes for which Athens is perhaps best known: drinking.
A bit out of the way of the main downtown drag, which lends credibility to the university's party school image, sits Normal Bar. It has a dive bar feel, but boasts a robust selection of craft brews—including new Athens brewery Creature Comforts' Tropicália IPA—and cocktails made from fresh-squeezed juice and bitters. It's like the grown-up version of a college town bar that invites you to stay awhile and relax.
While I didn't linger out nearly as late as the college set, I was ready to fuel up for breakfast the next day. I headed to a quaint stop near the top of my must-visit list: Big City Bread. With its wide, sun-dappled patio and made-daily scones, biscuits and bread (all the better to create heavenly cinnamon French toast), it was always a weekend indulgence during my time in Athens. For this trip, crispy herbed potatoes and an omelet with applewood-smoked bacon, arugula and blue cheese were a delicious start to the day.
It's hard to be in Athens and not indulge in a little shopping, so out I went in search of some retail therapy. Whether you're looking for stylish new duds (Alta Moda is trendy and affordable for the ladies, and Onward Reserve offers Southern-made styles for gentlemen) or vintage vinyl from Athens-originating artists like REM, the B52s and Widespread Panic (Wuxtry Records is an institution here), it's easy to find something commemorative to bring home. For me, I'm completely décor-obsessed these days, so I made a beeline to Classic City Consignment, an upscale home furnishing shop in a cute area called "Normaltown." The shop stocks affordable, gorgeous wares and I was thrilled to score an antique Persian rug at a bargain price.
In my visit to the Classic City I was happy to learn that Athens still has the college town charm I remember so fondly and continues to add new points of interest to its already burgeoning ranks. Who says you can't go home?
Stay.
Hotel Indigo
500 College Avenue
Athens 30601
706.546.0430
www.indigoathens.com
Eat.
Cinco y Diez
1653 S. Lumpkin Street
Athens 30606
706.850.2020
www.cincoydiezathens.com
Big City Bread
393 N. Finley Street
Athens 30601
706.353.0029
www.bigcitybreadcafe.com
Drink.
Jittery Joe's Coffee
297 E. Broad Street
Athens 30601
706.613.7449
www.jitteryjoes.com
Normal Bar
1365 Prince Avenue
Athens 30606
706.548.6186
Shop.
Alta Moda Boutique
688 S. Milledge Avenue
Athens 30605
706.850.3301
www.altamodaathens.com
Classic City Consignment
1368 Prince Avenue
Athens 30606
706.543.9333
Onward Reserve
146 E. Clayton Street
Athens 30601
706.543.0106
www.onwardreserve.com
Wuxtry Records
197 E. Clayton Street
Athens 30601
706.369.9428
www.wuxtry-records.com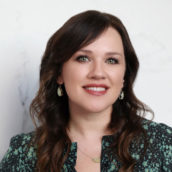 Jennifer Bradley Franklin
Senior Contributing Editor and Beauty Columnist at Simply Buckhead. Travel, Food and Design Writer and Author.