The Silver Queen: The Buckhead Diner still shines after all these years
By Wendell Brock | Photos by Sara Hanna

For 27 years, it has cut a sleek figure on Piedmont Road—a shiny, silver Art Deco wonder surrounded by a halo of pink, blue and turquoise neon. Mick Jagger has dined here. So have Muhammad Ali, Kathy Griffin and Steve Martin. While some guests go to watch the stars come out, others prefer the warm potato chips slathered in Maytag blue, the "famous" veal and wild mushroom meatloaf or the decadent wedge of banana cream pie buried in white chocolate shavings.
We are talking of course about Buckhead Diner, the indispensible landmark restaurant that's a jewel in the crown of the Buckhead Life Restaurant Group, which includes the Greek temple-like Kyma next door and the Atlanta Fish Market down the street.
While I have long been a fan of that big fish on Pharr and rather like the groovy white marble columns of Kyma, Buckhead Diner and I haven't been good about keeping in touch. Recently, I decided it was time to change that. Now, after three visits—including a lunchtime turn with a fresh-faced, new-to-Atlanta cousin and a leisurely dinner with an old colleague who gave me my first food-writing assignment—I think I understand the diner's longevity.
It's not the upscale diner food (which is good but a tad uneven). It's not the service (which ranges from vacuous to coddling). It's the place itself: the intimate scale, the timeless design, and the insistence on remaining retro—which, come to think of it, is a hallmark of other Atlanta landmarks like The Varsity and the Majestic Diner on Ponce.

Just as The Varsity will always have those famously greasy onion rings, Buckhead Diner will always have those addictive housemade chips with Maytag blue. They are an irresistible guilty pleasure: so evil, so salty, so good. But must the kitchen give you a Texas-size helping of them? This is not good for the waistline, and it may not be wise for business. Two people could fill up on an order, then walk out with an $8.95 check and leftovers. (So be smart: Get a half-portion.)
The evening I met my former co-worker here, we practically stabbed each other, plunging our forks into the "sweet heat" Thai-chili calamari. Deep-fried to a crisp, tossed with peanuts, red peppers and scallions, and bathed in a spicy-sweet glaze, the squid goes down like popcorn.
On the healthier side, we took a shine to the Tuscan kale salad, dressed up with dried cranberries, shaved fennel, Gala apples, toasted almonds and cider vinaigrette. Though my friend hadn't been here in ages, she remembered, and requested, the white chocolate banana cream pie. Once again: a sword fight of forks.
Sandwiches and burgers may be a better option here than pricier entrees. There's an entire section devoted to grilled cheese. After pronouncing those Maytag chips "intense," my cousin Emily enjoyed her fancy cheese sandwich: Georgia cured ham, fontina, green apple and spinach. Em said she thought the sandwich was going to come out pressed and oozy, but she didn't mind the loose construction. On another day, I had a wonderfully
juicy burger (topped with bacon and cheddar) and fries. (The menu says the meat is ground chuck, brisket and short rib—so no wonder it's luscious.)
To be honest, I found that "famous" veal meat loaf a little blah. With the carrots, green beans and ho-hum mashed potatoes, it felt more like a TV dinner than an $18.95 meal. The chervil-scented crab cakes were solid, but lacked any sort of wow factor. The horseradish-crusted cod, which our server raved about, was slightly overcooked. But still, it was a good hunk of fish and a pretty dish, too, thanks to the medley of sweet peppers, onion, zucchini and eggplant.
So here's the thing: Executive Chef Charles Schwab's cooking is not the reason for Atlanta's long-time love affair with Buckhead Diner. It's the way the friendly bartender makes a point of giving you a hearty hello when you walk through the door. It's the curvilinear lines of the room, the subway-tile floors, the feeling that you are on a double-wide silver-bullet luxury train pulling out of Grand Central Station. If it's possible for a restaurant to achieve celebrity status, then Buckhead Diner is a star. Simply by virtue of the way it lights up Piedmont Road, it has always been, and will always be, a classic.
Appetizers: $5.95-$11.95. Sandwiches and burgers: $12.95-$15.75.
Entrees: $16.50-$29.95.
Bottom line: A diner with landmark status.
Buckhead Diner
3073 Piedmont Road
Atlanta 30305
404.262.3336
www.buckheadrestaurants.com/buckhead-diner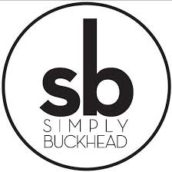 SimplyBuckhead
Simply Buckhead is an upscale lifestyle magazine focused on the best and brightest individuals, businesses and events in Buckhead, Brookhaven, Sandy Springs, Dunwoody and Chamblee. With a commitment to journalistic excellence, the magazine serves as the authority on who to know, what to do and where to go in the community, and its surroundings.