A sampling of great eats in and around Buckhead.
BUCKHEAD DINER
This indispensable, neon-splashed diner is a jewel in the crown of the Buckhead Life Restaurant Group, which includes the Greek temple-like Kyma next door and the Atlanta Fish Market down the street. For 27 years, fans have flocked here for the housemade chips with Maytag blue, the "sweet heat" Thai-chili calamari, juicy burgers and the decadent white chocolate banana cream pie—all classics. Simply by virtue of the way it lights up Piedmont Road, this diner has always been, and will always be, a star.
Appetizers: $6-$12
Sandwiches and burgers: $13-$16
Entrées: $17-$30
buckheadrestaurants.com/buckhead-diner
---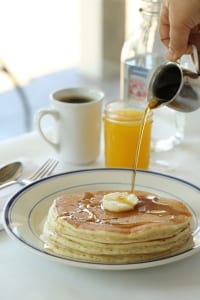 BUTTERMILK KITCHEN
Chef Suzanne Vizethann offers thoughtfully handcrafted food in a room as pure and simple as its namesake drink. Southern classics are the foundation of this Roswell Road breakfast-and-lunch spot, and you can't go wrong with the Brunswick stew, chicken salad, pimento cheese, or the fried chicken biscuit with pepper jelly and pickles. Vizethann's love of sweet confections really shines at weekend brunch, when folks line up in front of the inviting bright-blue cottage for the likes of toasted blueberry coffeecake and poppy-seed pancakes with strawberries and lemon curd.
Salads and sandwiches: $8.25-$11.50
Breakfast dishes: $8-$13
buttermilkkitchen.com
---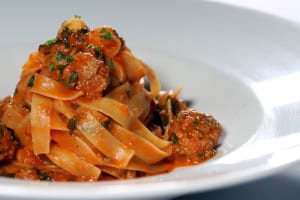 DAVIO'S NORTHERN ITALIAN STEAKHOUSE
With its handmade pasta, terrific steaks and foundation of classic Italian dishes, the Atlanta outpost of Massachusetts-based chef-preneur Steve DiFillippo sets a higher than usual standard for a mall restaurant. Fine-food lovers flock to Phipps Plaza for Davio's delicious fried calamari, tagliatelle Bolognese, and warm spinach salad like ravenous shoppers on the hunt for Louis Vuitton bags, Tiffany silver and Dior gowns. And they can do no better than the buttery medallion of impeccably grilled top sirloin, slathered with Gorgonzola and paired with wilted spinach and sea-salt-and truffle- oil fries. No wonder the Davio's menu is as tantalizing as the shoe department at Nordstrom.
Appetizers and salads: $9-$16
Pastas, entrées and steaks: $18-$48
davios.com/atl
---
FARM BURGER
Of the locally pastured gourmet burger chains, Farm Burger, which has a Buckhead shop on Piedmont Road near Tower Place, has long been a favorite. And it's hard to imagine a more decadent list of toppings for your grass-fed, dry-aged patty than oxtail marinade, apple slaw, red-bean chili, pork belly, bone marrow, cured lardo, bacon, fried egg or the six kinds of cheese. Keep your eye on the blackboard for seasonal specials, too. In spring, you might get a burger decked out with Vidalias and pesto; in summer, a dollop of peach chutney. While we don't normally pass on beer-battered onion rings, Farm Burger's sweet potato fries are irresistible.
Snacks: $2-$4
Burgers: $6.75-$8.50
farmburger.net
---
GEORGIA GRILLE
Twenty-two years after its opening, Georgia Grille remains true to Atlanta born owner Karen Hilliard's original vision, which means she still splashes the bright flavors of Santa Fe onto the plates of her happy and devoted customers. The French-trained Hilliard dresses her creations in voluptuous cream sauces accented with smoky poblanos or tart tomatillos—and drizzles them with colorful squirt bottle squiggles of flavor. We dug her smoked-pollo enchiladas, which are stuffed with onion and sour cream, smothered with green-chile sauce and tomato salsa and served with a little salad in a taco-shell cup. The flat-iron steak, rubbed with salt and spices and cooked until its crust is charred, was another solid choice. Atlanta has plenty of regional restaurants, but a good Southwestern place is hard to find. Hilliard, who lives in nearby Peachtree Hills, knows what her neighbors want, and she dares not let them down.
Entrées: $15-$31
georgiagrille.com
---
JOY CAFÉ
Every Sunday at sunrise, Joy Austin Beber goes to her Buckhead café and makes a whopping pile of her great grandmother's biscuits. After church, she serves a hallelujah chorus of a brunch: fluffy buttermilk pancakes; eggs Benedict; and those famous biscuits topped with gravy, sausage and scrambled eggs. I arrived at the 3 p.m. cutoff for the breakfast-y brunch items, and enjoyed a terrific cobb salad with loads of blue cheese, bacon, avocado, boiled egg and grilled chicken. The Joy's pièce de résistance, though, is the Crack Pie, with its oatmeal-cookie crust and gooey interior. Joy got a kick out of hearing that I am wack for her crack. This self taught chef keeps it simple and fresh.
Brunch: $7-$14
Lunch: $8-$12
joycafeatl.com
---
PANAHAR BANGLADESHI CUISINE
Anyone who has a passing familiarity with Indian food will feel right at home at this exotic-yet-homespun Buford Highway hole-in-the-wall. The $9.99 lunch buffet is a delicious way to sample the flavorful, aromatic cuisine of Bangladesh, which often uses less spice and more coconut milk than its sister region in Northern India. At dinner, you may take advantage of the BYOB policy, bringing wine or beer to wash down the highly appealing biryanis, kormas, tandooris and other delights of the Bengali table, including many here with beef.
Appetizers: $4-$6
Mains: $11-$15
panaharbangladeshi.com
---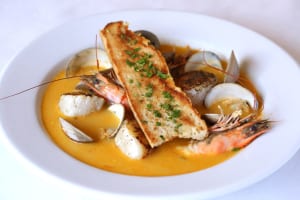 PORTOFINO
We often dream about this slightly-off- Paces Ferry slice of Italy, where executive chef Matt Marcus' earthy cooking evokes Liguria while staying smartly anchored in America. (And sometimes the American South.) Since 2000, this neighborhood gem has been a primo spot for feasting on the vibrant flavors of its Italian Riviera namesake. Vealand- ricotta meatballs, fried artichokes, luxurious pastas, polenta with shrimp, limoncello cheesecake: It's the sort of wonderfully comforting, hand-crafted fare that satisfies our longing for La Bella Vita when a trip to Italy is simply not in the cards.
Soups, salads and antipasto: $7-$14
Pastas and entrées: $18-$29
portofinoatl.com
---
STARFISH
Starfish—which can look just a little lost on the block that houses Restaurant Eugene and Holeman & Finch—is exactly the kind of sushi joint I have been trolling for. In a city where Japanese cuisine can be hit-or-miss and sometimes not the freshest, chef owner Seung K. "Sam" Park's reticent little pearl is a superior catch—cute and compact as a bento box but with just a hint of luxury. At dinner, we were delighted to see how the kitchen plays around with untraditional ingredients like truffle oil and balsamic vinegar, slicing fish as thin as carpaccio and arranging it in dazzling presentations. When our flounder sashimi arrived, the server told us to place a dab of the ponzu jelly spiked with cilantro, jalapeño and lime on a strip of the fish and roll it up. Exquisite. Starfish isn't the kind of place that announces itself with screaming klieg lights or red carpets. But in this culture of excess, sometimes being a little bit under-theradar can be very seductive.
Lunch Entrées: $7-$16
Dinner Entrées: $12-$30
starfishatlanta.com
---
THIRTEEN PIES
This modern gourmet-pizza parlor in the posh Buckhead Atlanta development is a welcome addition to this pie-struck town. The room is beautiful, the cocktails memorable, the small plates and house made pastas stuffed with fresh, vibrant, Mediterranean flavors. But what really shines are the pizzas—thin, crisp, and small enough so that each bite of mushroom or lamb sausage counts. The Iberian, with fennel salami, "old" manchego, smoked provolone, yellow tomatoes and other Spanish ingredients, is a perennial crowd-pleaser, while the Spotted Trotter Guanciale & Farm Egg is a deliciously rustic, sunny-side-up breakfast riff: bacon-and-egg pizza, if you will.
Salads and small plates: $9-$12
Pastas and pie: $13-$16
thirteenpies.com
---
WATERSHED ON PEACHTREE
Co-owned by Indigo Girl Emily Saliers and restaurateur Ross Jones, Watershed is a restaurant with a storied, personality-driven past. It started as a walk-up sandwich shop in Decatur, won a James Beard Award for chef Scott Peacock and moved to Buckhead in 2012. Recently, chef Zeb Stevenson took over the kitchen, and his Southern and sometimes French-accented food is a decided improvement over predecessor Joe Truex. We are crazy about the dreamy chicken-liver mousse, smoked trout brandade and Appalachian cider beans, a cassoulet-like play on pork and beans. A self-taught cook who brings soul, excitement and the occasional spark of genius, Stevenson is less interested in replicating the greatest hits of the past than cooking straight from the heart. We should all respect that.
Appetizers: $8-$16
Entrees: $9-$18 at lunch, $20-$35 at dinner
watershedrestaurant.com
BY: Wendell Brock
PHOTOS: Sara Hanna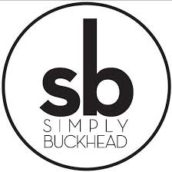 SimplyBuckhead
Simply Buckhead is an upscale lifestyle magazine focused on the best and brightest individuals, businesses and events in Buckhead, Brookhaven, Sandy Springs, Dunwoody and Chamblee. With a commitment to journalistic excellence, the magazine serves as the authority on who to know, what to do and where to go in the community, and its surroundings.