From a stress-relieving art class to fun sports activities and a cool, interactive play space, these recreational pursuits will captivate your child under 12. Possibly you, too!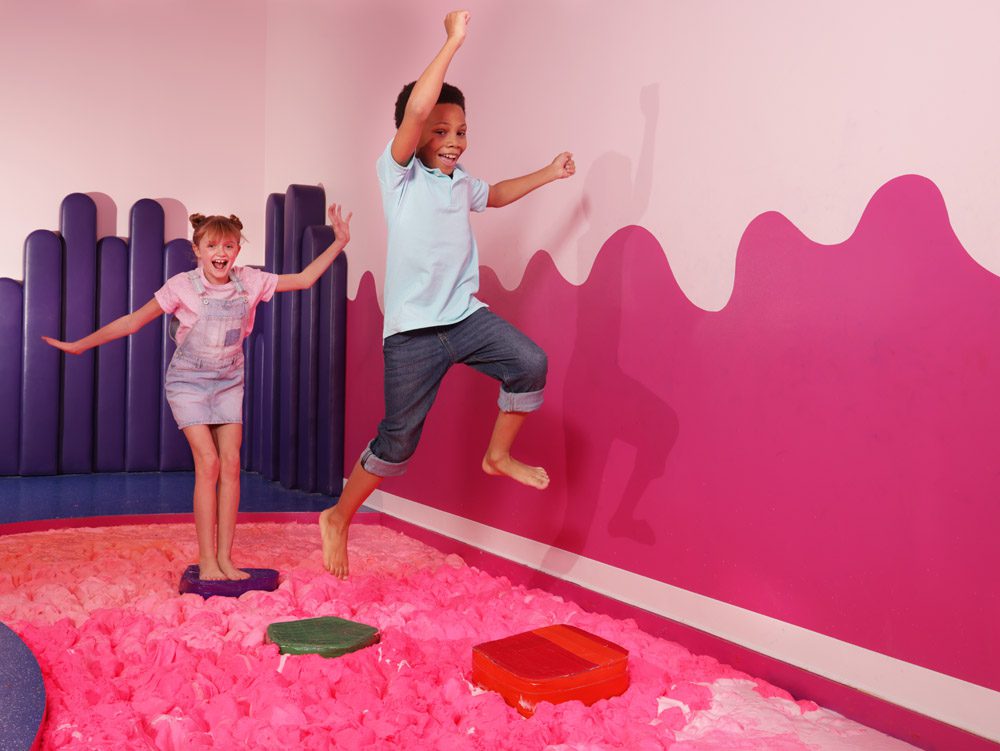 INTERACTIVE: SLOOMOO INSTITUTE
Getting slimed used to be synonymous with Nickelodeon, but interactive playcenter Sloomoo Institute brings a new perspective to the concept. The sensory space, which opened this past winter in Buckhead following locations in New York and Chicago, is a slime mecca made for kids, but adults will have a blast, too.
Upon entering, you'll have the chance to massage, stretch and ball up various kinds of slimes in different colors, scents and textures. Next, satisfyingly spread some down a wall or slingshot a ball of it at a loved one standing behind behind plexiglass. Make your way through more rooms and experiences including a blacklight room where you can play with colorful kinetic sand and have a dance party with your virtual slime character, a lake of slime where kids are invited to take off shoes to enjoy the squish under their toes and an obstacle course to climb through. In one area, you can wear a heart rate monitor as you play and watch your heart rate slow (a sign of relaxation).
"We are actively working on a study at Sloomoo with well-known children's psychiatrist Dr. Judith Joseph to find out exactly how magically beneficial our experience is for people of all ages," says co-founder Karen Robinovitz, who discovered slime through her friends' daughter after battling severe grief and depression. "It was the first time in a long while that I not only had a genuine smile but felt joy."
Robinovitz teamed up with friend Sara Schiller to bring the concept to life. Schiller says, "Little did we know that we were tapping into a human need to connect with ourselves and others that only became more powerful after the pandemic." With the purchase of the enhanced admission, brave kiddos— and adults—can get swathed in plastic rain gear and slimed from buckets overhead (very a la Nickelodeon). It's a hoot.
In the finale, visitors can create their own take-home slime by customizing its texture, scent, color and accessories, capping off the memorable activity.
SLOOMOO INSTITUTE
sloomooinstitute.com
@sloomooinstitute
SPORT: KIDS AT PLAY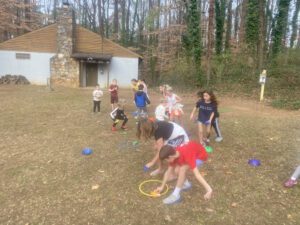 In late 2020 with virtual classes and limited sports options for kids, Craig Drilling saw a dire need for an outlet to get outdoors and play. The full-time dean of student life (previously director of athletics and phys ed) at Brandon Hall School in Sandy Springs launched Kids at Play Atlanta, a mobile physical education service featuring trained coaches.
Despite returns to normal life post-pandemic, due to its unique niche, the recreational offerings— from individual sport sessions, birthday parties and field days to regular group sports programming— continue to expand for children between ages 3 and 13.
"It's important for youths to get outside, get fresh air and develop healthy habits and routines. There is a direct correlation between exercise and academic success," says Drilling. "Critical thinking skills and teamwork are a big part of it, and through good coaching, they might find success that they may not have felt otherwise."
How it works: For the mobile programming, coaches will come to your home or neighborhood park throughout metro Atlanta. Depending on what your child prefers, the coach can set up structured games, high-energy movement activities or an intro to sports over 45-minute to two-hour sessions. For birthday parties or as part of a portable physical education session, tiger tail tag is a fan favorite. Here, children tuck a T-shirt into their shorts and run around, trying to pull them out of each other's pockets until one person is left. During a field day, games might include a water balloon toss, egg and spoon race and soccer obstacle course.
Kids at Play also offers hour-long sports programming at locations in and near Brookhaven. This spring and summer may include a volleyball clinic, soccer skills class and lacrosse clinic. At the end of each class, children receive different awards and evaluations that reflect their positive skills or behaviors.
"This can be a springboard to more competitive rec sports if they're interested," Drilling says. "The most important thing is keeping kids engaged and positive."
KIDS AT PLAY ATLANTA
678.471.6284
kidsatplayatl.com
@kids_at_play_atl
ART: SPLATTER STUDIO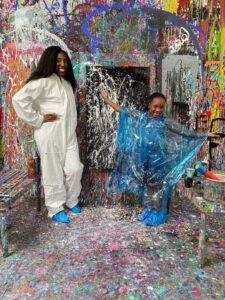 Don't hold back is the theme at Sandy Springs' 9,000-square-foot action painting experience Splatter Studio. Unlike typical sip-and-paint studios, this artistic space is open to all ages and doesn't show you how to paint anything. Little artists can create whatever their hearts, or fingers, desire.
"Splatter Studio encourages freedom of expression in the space and using your full body—flinging, throwing paint and becoming part of the art-making process. Everyone comes out with a unique painting in truly their own style that they can experiment with in the studio." says Jenna Rees, Splatter's chief brand officer, who has a background in fine art. She collaborated with the studio's owner Howard Krinsky of Binders Art Supplies and Frames to launch the concept in 2020 as a Ponce City Market pop-up before opening the first brick-and-mortar in Virginia- Highland the following year.
Walking into Splatter is like stepping into an abstract painting. Every inch is covered in paint, and the immersive experience is intentionally designed. Each participant receives a 16-by-20-inch canvas and is encouraged to get messy by pouring paint on it, flipping it upside down, putting it on the floor, painting said floor, the ceiling, the walls—again, whatever you want. Kids and their adults can play with paint in a way they wouldn't be able to do in an academic or home setting, making it like unofficial art therapy.
SPLATTER STUDIO
404.487.3820
thesplatterstudio.com
@thesplatterstudio
Photo: Sara Hanna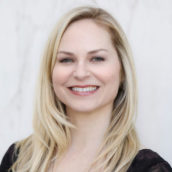 Karina Antenucci
Managing Editor and Wellness Columnist at Simply Buckhead. Blogger at Badass + Healthy.