A DOWN-SIZED PEACHTREE HILLS HOME SHOWCASES ITS OWNERS' ARTISTIC PASSIONS!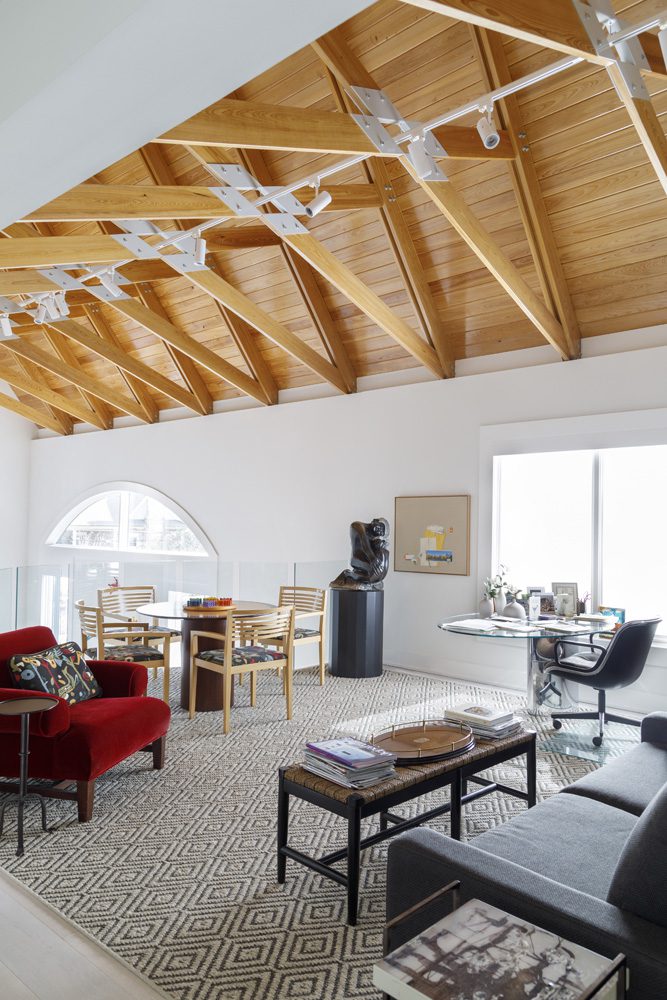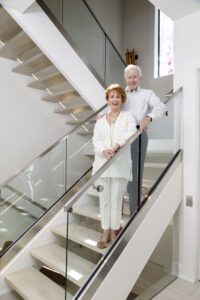 Not a single detail was overlooked in the design of Andrea Strickland and Jerry Cohen's Peachtree Hills home. From how the sunlight falls on their art collection to the way the gutter downspouts frame the sleek lines of the stucco exterior to the bull-nosed wall corners, each element is intentional and aesthetically pleasing. Much of the credit is due to architect Tom Ventulett, a longtime friend of the couple and founder of tvsdesign, and interior designer Mark Williams.
"I had so much fun with our architect designing the house," Strickland says. "It's contemporary, but still works within our neighborhood."
Nestled on a quaint street between more traditional abodes, the residence is a part of Peachtree Hills Place, a 55-plus, luxury community. The pair downsized from a 7,500-square-foot Buckhead home in 2020. Although their new two-bedroom, four and- a-half-bathroom abode offers a reduced 4,500 square feet, the art-loving couple still wanted to display their vast collection. Ventulett responded by fashioning a gallerylike open living space with five walk-throughs, each creating a wall to spotlight a work of art.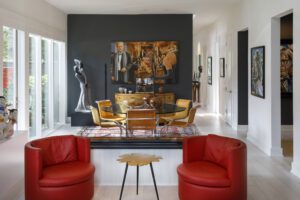 "The spaces were designed to be background to the art, and that was a lot of fun," Ventulett says.
Williams placed artworks with thought to sightlines, colors and more.
"Mark even designated the heights of the pedestals for the sculptures. That makes a big difference," Strickland says. "At our old home, as we bought new art, we simply hung it on whatever blank wall we had. Here, Mark placed each piece to create a room where the colors worked and showed off the piece of art. He did a great job."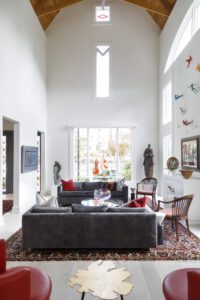 Williams arranged the furniture to create conversation spaces. A formal living room and an adjacent sitting area with red chairs from Cantoni reside aside a water vapor fire element where Strickland enjoys drinking wine and tea with guests. The adjacent dining space features a circular glass table and accent wall in Sherwin Williams' Grizzle Gray, complementing hues in the cocktail party painting above the sideboard.
"Jerry loves this painting because when you have a party it looks like they are joining in," Strickland says. "Everyone talks about that."
From items picked up during far-flung travels to Cuba, Africa and Asia to pieces by local artists such as figurative painter Gail Wegodsky, the couple's collection runs the gamut in style and medium.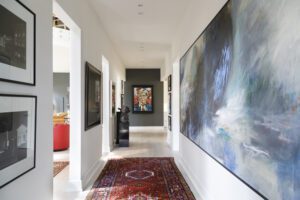 "I try to encourage young people when they are traveling to buy something they like. You don't have to spend a fortune," Strickland says. "We are definitely eclectic. If we see something we like, we buy it. We have never thought about where it was going to go in our home."
One work that pre-dates Strickland is the painting of a female figure by Philip Pearlstein, an American painter best known for modernist realism nudes, in Cohen's office. "Jerry bought this young, right out of law school," Strickland says. The piece used to hang in the couple's living room but now resides in the office along with a collage of smaller works and a Michael Gilmartin rocker made of pressed plywood from South America. Just outside the office, the powder room features one of Strickland's favorite design touches: a glass sink designed by Ventulett that openly cascades water from the faucet down into the floor.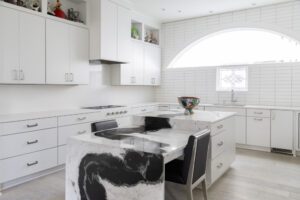 "Tom has this sink in his home, so it is a unique design," Strickland says. "I always loved how people reacted to it, so asked his permission to copy it in our powder room."
The drama starts in the entry foyer with a front door flanked with custom stained glass designed by Ventulett and created by glass design artist Mark Fallis and a large, blue-hued abstract painting that Strickland purchased off artist- friend Phyllis Franco's wall. Next door, the living room showcases Murano glass blown by Italian artist Afro Celotto, a sparkling giclée purchased on a cruise and a collection of small climbing figures Strickland picked up at the American Craft Council. The figures accentuate the height of the 34-foot walls that lead up to the unpainted wood ceiling finished with Ventulett-designed scissor trusses that accommodate art lighting through them.
"The ceiling was going to be white, and when the contractor put the wood up, he did such a great job of picking wood that didn't have knots in it," Strickland says. "And Tom said, 'Why do we want to paint the ceiling?'"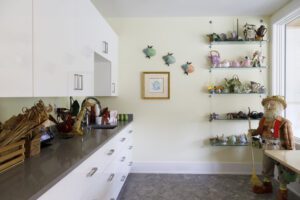 What did remain white is the kitchen, where the frosted, semicircle window and square leaded glass above the sink provide light and privacy from the neighbors. The room also boasts a two-tiered waterfall marble island with a bold black vein that snakes its way from one side to the other. Pops of color come from Strickland's teapot collection, displayed on lighted shelves above the cabinets.
"With an all-white kitchen, my thinking was you needed a place to put art so that you could have some color," Strickland says.
Around the corner is the homeowners' bedroom, furnished with a Cantoni bed and paintings by Ventulett. The multi-talented architect's works can also be viewed printed on glass on the back patio, where Drew Pepiot of Surrounding Landscapes designed wooden slates around the floral art works to block the view of the neighbors.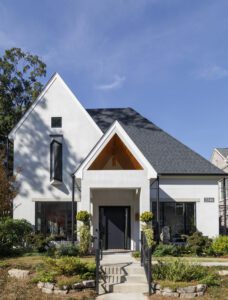 "The sun comes through at different times of the day, and it HOME changes the whole feeling of this deck," Strickland says. "The spaces [between the wood slats] get wider at the top where you can get sun and a view of the leaves. [Drew] did a brilliant job."
Upstairs, reached via a glass-enclosed stairwell or small, hidden elevator, is a landing adorned with a painting of a ballet dancer and her partner purchased on Miami Circle, and a collage wall of photographs the couple collected over the years. The second level is also home to Strickland's office that doubles as a guest room via a pullout sofa bed. The loft-like space features a glass balcony overlooking the living room and a game table where Strickland hosts her bridge group. The ensuite bathroom features a floral Kohler sink that Strickland fell in love with.
"I'm a big gardener and flower person, and we designed around the sink," Strickland says. "It's the perfect sink for someone like me that loves gardening and flowers."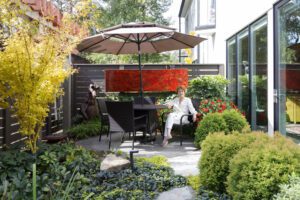 Strickland's love of gardening is apparent through the home's outdoor spaces, lushly designed and cared for with the help of Surroundings Landscape. Off the living room, the greenery surrounds an umbrella table and chairs atop a circular concrete pad in light and dark gray. The space is further accented with outdoor art works, from a metal dragon sculpture to a large rectangular piece finished in 14 coats of Mercedes-Benz red paint.
"At night, you can walk by and look through the garden, and the red piece is spotlighted," Strickland says.
Off the bottom level is another outdoor space with a meandering path that leads to Strickland's garden. When she isn't tending her patch of green, she is often filling vases with freshly cut flowers in her craft room where a large picture window overlooks the outdoors, just one of the many must-have elements that Ventulett successfully delivered.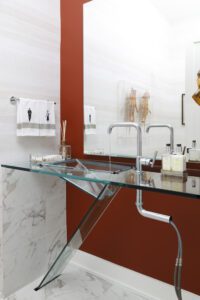 "I can say the house is beautiful because I had a great architect and a great interior decorator, and I am good at writing checks," Strickland says. "Tom gave us the ability to show our art but still have a house with a warm, welcoming feel. It could have easily become like an art gallery."
Andrea Strickland's Favorite Design Details
1. "My conversation area by the fireplace with my red swivel chairs: I designed this for when girlfriends come over, and we want to chat over a glass of wine. At our previous home, there was not an informal place to sit."
2. "The powder room sink: I love to watch people's reactions when I turn on the water."
3. "Because I love to have parties, I enjoy the overall traffic flow of the house."
PHOTOS: Patrick Heagney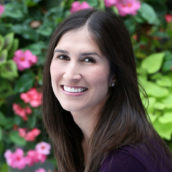 Giannina Bedford
Giannina S. Bedford is multi-faceted writer and editor. Her work covers design, travel, food and business. She's penned Simply Buckhead's home feature since inception and held a variety of editorial roles at the magazine. Her freelance work has appeared in Condé Nast Traveler, USA Today, Virtuoso Life, Hemispheres and TravelandLeisure.com. She also contributes regularly Atlanta Business Chronicle. Fluent in Spanish, Giannina was born in Miami and grew up in Brazil, Chile, Hawaii and Australia. She currently lives in Dunwoody with her two kids and husband.