INSTAGRAM SENSATION MIA THE WESTIE IS AMERICA'S TOP DOG MODEL!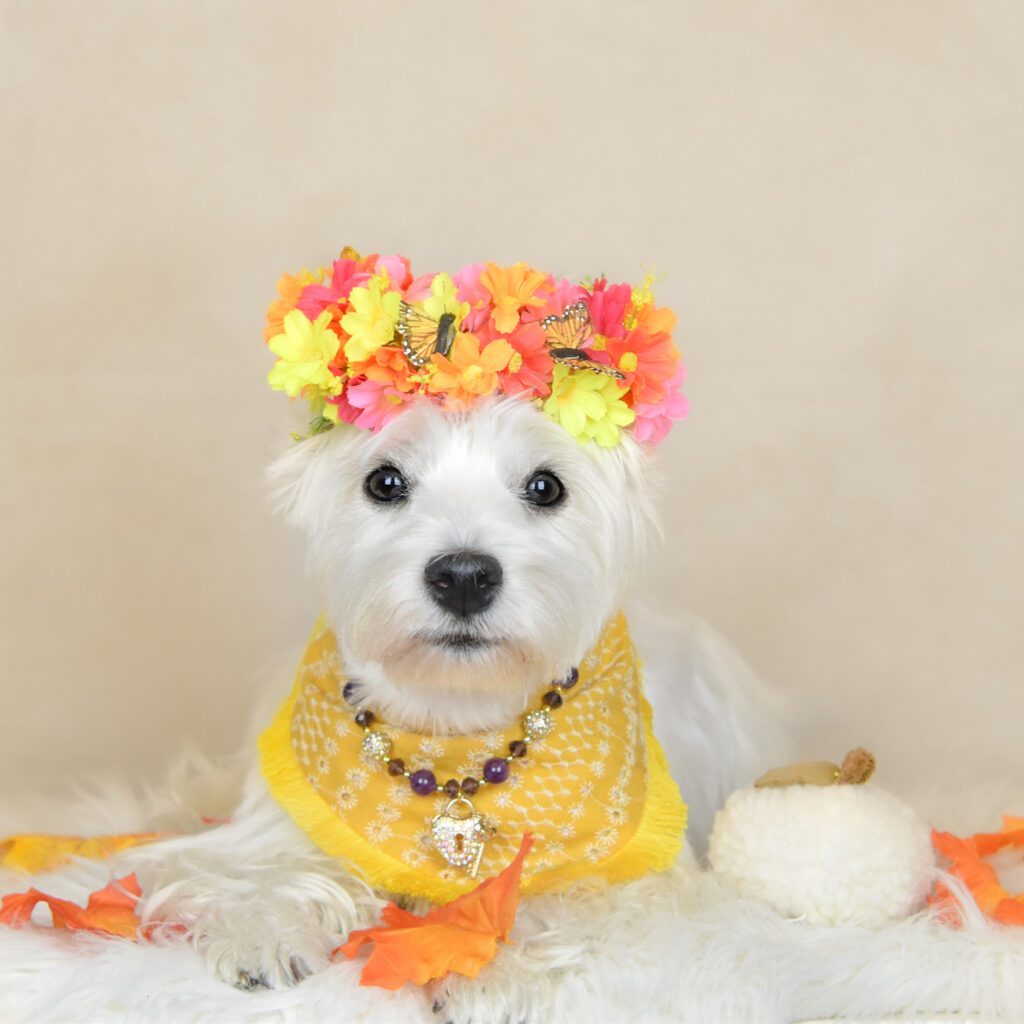 People ask Juliana Acosta nearly every day where her photography studio is located. They want to know all about the setup that allows her to take such adorable and memorable photos of Mia, her 4-year-old West Highland Terrier. Over the past year, Mia has become an Instagram celebrity, garnering more than 16,000 followers of her posts in which she models a variety of cute outfits and accessories. To get the best shots for the fans, Mia typically spends two days per week with Juliana in an unexpected locale.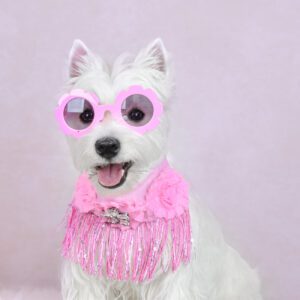 "The studio is in my closet," says Acosta, who lives in Brookhaven and works at Emory University. "I share a closet with Mia; my clothing is on the left, and hers is on the right. Right up the middle, I have the background, lights and a stand. That's where all of the magic happens."
Acosta took the award-winning photo that helped Mia land the title of America's Top Dog Model for 2021 in that closet. The nationwide contest has been a friendly competition among dog owners since pet lifestyle expert Jo Jo Harder launched it in 2005. Each year features a different theme; 2021's "Vintage Tails" encouraged pup parents to dress their fourlegged friends in vintage styles. Mia stole the show in a red satin and lace dress, complemented by a necklace and headpiece adorned in crystals.
"When I took the picture of Mia, it was a sad time. COVID was affecting my family, and I felt like my heart couldn't take that much pressure. But my mom helped me take the picture and said, 'We can do it,'" Acosta says. Mia's win brought unexpected joy in the midst of a tough year.
Mia has brought that kind of happiness to Acosta's family since she joined it in 2017. Luna, their black Labrador that served as an emotional support pet for Acosta's mother, had recently passed. And although the family also has three Yorkies, something was missing. "We used to see the commercials for Cesar's dog food, and my mother always said she wanted a dog like that," Acosta says. On Dec. 23, Acosta's husband surprised his wife and mother-inlaw by adopting Mia. "The moment I saw her, she looked at me with those eyes, and I was sold," she says. "It was a beautiful moment."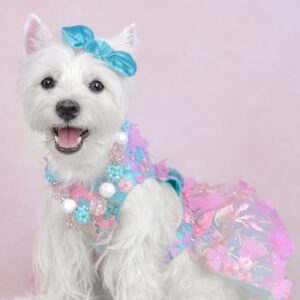 Not long after, Acosta put Mia in a sweater. She seemed to love it, and it didn't take long for Acosta to begin trying different outfits. Soon, Mia was sporting an array of snazzy dog apparel and blinged-out accessories, from dresses, tutus and swimsuits to bowties, handkerchiefs and sunglasses. Acosta, who has a penchant for photography, began snapping pictures and started an Instagram account for Mia. During the pandemic, when Acosta began honing her photography skills, the account took off. Now, the process of capturing Mia's style has become a family affair, with Acosta spending about two hours per week taking photos and 30 minutes editing them for Instagram. And when the images are posted, the engaging Westie's personality spreads good cheer.
"Mia is a very joyful little dog," says Acosta, who has never considered monetizing the account, instead choosing to make it more of an experience designed to inspire others. "She loves fashion. She's fun and loving. She's also a regular dog that runs around the living room and has adventures. She always brings a smile, and she inspires us every day."
@mia_the_westie_
LAUNCH YOUR PET AS AN INFLUENCER
Have dreams of turning your pet into an Instagram sensation? Here are a few tips from Juliana Acosta that will help you do just that.
Be inspirational. In addition to a great picture, add something to your posts, such as an uplifting quote.
Don't force things. If your pet doesn't like to wear clothes, don't try to make them. Find a moment when you can just take a beautiful picture. It's about the memory you're creating through the picture.
Be a storyteller. Your posts should show the history and life of your pet. Give people a story that they enjoy following.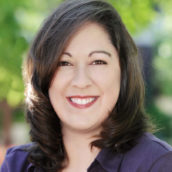 Amy Meadows
15 Minutes With columnist at Simply Buckhead. Freelance feature writer, children's book author and President of Green Meadows Communications, LLC.