Mother Earth
Designed with green living in mind, an eco-warrior's Buckhead home is a healthy haven for the entire family
By Giannina Smith Bedford
The first time Jennifer and Brett Hankey stepped into their 7,500-square-foot Buckhead home there were snakes in the cabinets, broken windows and mold from a leak in the basement. The seven-bedroom, five-and-a-half-bathroom property had been vacant for five years and the backyard was an overgrown jungle. Surprisingly, the Hankeys saw through the chaos and pictured their future home—or at least one of them did.
"I could see it finished. My husband thought I'd lost my mind," Jennifer says. "I was like, 'This is going to be amazing!' and he was like, 'What are you talking about?' So for him to take that leap was a big deal."
A former real estate agent, Jennifer is the founder of Healthy Green Schools—a company that educates schools on how to be healthier, more sustainable and less toxic—so she was thrilled at the idea of outfitting the fixer-upper with earth-friendly touches. Jennifer picked up her penchant for green living while she and Brett, vice president of strategic business development at HD Supply, were living in California. The couple originally met in Atlanta and married in 2008, right before moving to the West Coast. They returned to the Peach State in 2012 and closed on their home in March 2013.
Set on a cul-de-sac on a quiet street, the Hankey home has completely overcome its dark past. Its transformation, which continues today, didn't entail changing the floor plan, but several aesthetic alterations were done with the family's health in mind. Today, high-efficiency windows stream natural light into rooms outfitted with a plethora of eco-conscious touches. From the nontoxic Mythic paint to the Nature's Carpet wool rugs free of harmful chemicals and dyes to the nonhazardous, high-efficiency spray foam insulation that helps keep power bills at around $150 a month, the list goes on and on.
"We did everything nontoxic. When you buy a new property, typically it comes with new carpet, paint and stain. You walk in and the indoor air is 10 times more toxic than outdoor air," says Jennifer, who sourced the majority of the "green" products herself. "My little girl was born with 19 food allergies and has had eczema. She's sensitive to lots of stuff so I looked at this as a diamond-in-the-rough opportunity to really make it nontoxic."
Step into the living room and relax on couches from Bungalow Classic, custom made with eco-fabrics—mainly organic cotton, linens and jutes that also feature vegetable dyes—and frames free of flame-retardants, which Jennifer says have been linked to conditions like thyroid cancer. Like all floor coverings in the home, the antique vegetable-dyed rug in the living room, from John Overton Oriental Rugs, is free of toxic chemicals. Much of the furniture is antique pieces made of reclaimed wood or wood free of formaldehyde. Plants and Austin Air Purifiers are scattered throughout the home to further improve the quality of each breath.
"A lead tester came in recently and tested the whole house for heavy metals. My house is really, really nontoxic," Jennifer says.
In overhauling the kitchen, the Hankeys traded beat-up slate floors for nail-down real hardwoods with no toxic glues or adhesives. They replaced the maple and laminate island with one topped with dark leathered granite, and new white maple cabinets took the place of the old maple cabinets. Whitewashed two-by-fours were installed as panels on the walls to give the open space a warm rustic touch. The cooking space, now outfitted in high-efficiency Sub-Zero and Dacor appliances, features a basketweave-pattern travertine stone backsplash picked out by designer Arthur Lujon, who helped the Hankeys add many other stylish touches. Lujon's genius extends to the coffered ceiling in the living room, the boiserie panels in the foyer and the stacked stone fireplace in Brett's manly study.
Up the Green Guard wool-carpeted stairs are the family bedrooms, including those of the Hankeys' daughters, 4-year-old Holland and 2-year-old Hayden. Done in girly pinks and purples with Pottery Barn furniture and flowered floor cushions, the girls' rooms—and that of their parents—feature organic bedding and organic mattresses from Lifekind or Holy Lamb Organics. "Odd thing to love, but I love being safe from chemicals for those eight hours a day," Jennifer says.
Adjoining the girls' rooms is one of the most cheerful spaces in the entire home: a spacious playroom where the once peeling green wallpaper walls now showcase a colorful nature-themed mural by artist Megan McKeithan done in nontoxic Mythic paint. Complete with an oversized mushroom leading to a secret "no-adults" hideaway, the room also features a built-in bench and cushions covered in organic cotton. "It is the most fun room and such a wonderful space for little ones," Jennifer says.
Although they've already put a lot of time and energy into their home, the tweaking continues. The next big project: redoing the basement with a bedroom, bath, den, workout room, another playroom, and arts and crafts space. The project will take a while, but Jennifer says that is often the key to green renovations. Her words of wisdom to homeowners considering an earth-friendly refresh? Take your time.  "Realize it is never as fast or as inexpensive as you are told," she says. "Take a breath and let it run its course—and don't be in a hurry to move in."
Jennifer Hankey's top 5 tips to help make your home a healthier place
1. Leave your shoes at the door. "It's one of the easiest and most effective ways to reduce toxic pesticides and other chemicals in your home."
2. Use truly nontoxic weed control and lawn care. "Even brands cited as 'nontoxic' can contain highly toxic chemicals that can affect your children, pets and groundwater. Check out Rgreen Organic Lawn Care or Simply Organic Turf Care."
3. Opt for nontoxic, organic bug control. "Pesticides in the home are harmful. Claims of being nontoxic don't mean they don't contain toxic chemicals. Find a provider that uses EcoSmart as a truly safe pesticide that really gets rid of bugs. Buy some for your own bug control around the home."
4. Clean your air. "Indoor air is two to 10 times more toxic than outdoor air. Open your windows where possible, buy high-quality air purifiers like Austin Air and choose truly nontoxic cleaners."
5. As you get something new, research safer choices. "Is it time to paint, get a new sofa or remodel? Look for options that are truly safe. No-VOC paint still contains chemicals and most couches and other home furnishings contain toxic flame-retardants. Check out www.greenbuildingsupply.com for nontoxic options. Marketing terms can be misleading so it is best to research first!"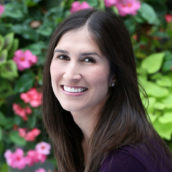 Giannina Bedford
Giannina S. Bedford is multi-faceted writer and editor. Her work covers design, travel, food and business. She's penned Simply Buckhead's home feature since inception and held a variety of editorial roles at the magazine. Her freelance work has appeared in Condé Nast Traveler, USA Today, Virtuoso Life, Hemispheres and TravelandLeisure.com. She also contributes regularly Atlanta Business Chronicle. Fluent in Spanish, Giannina was born in Miami and grew up in Brazil, Chile, Hawaii and Australia. She currently lives in Dunwoody with her two kids and husband.