Pack your sense of adventure for a trip to Utah's Montage Deer Valley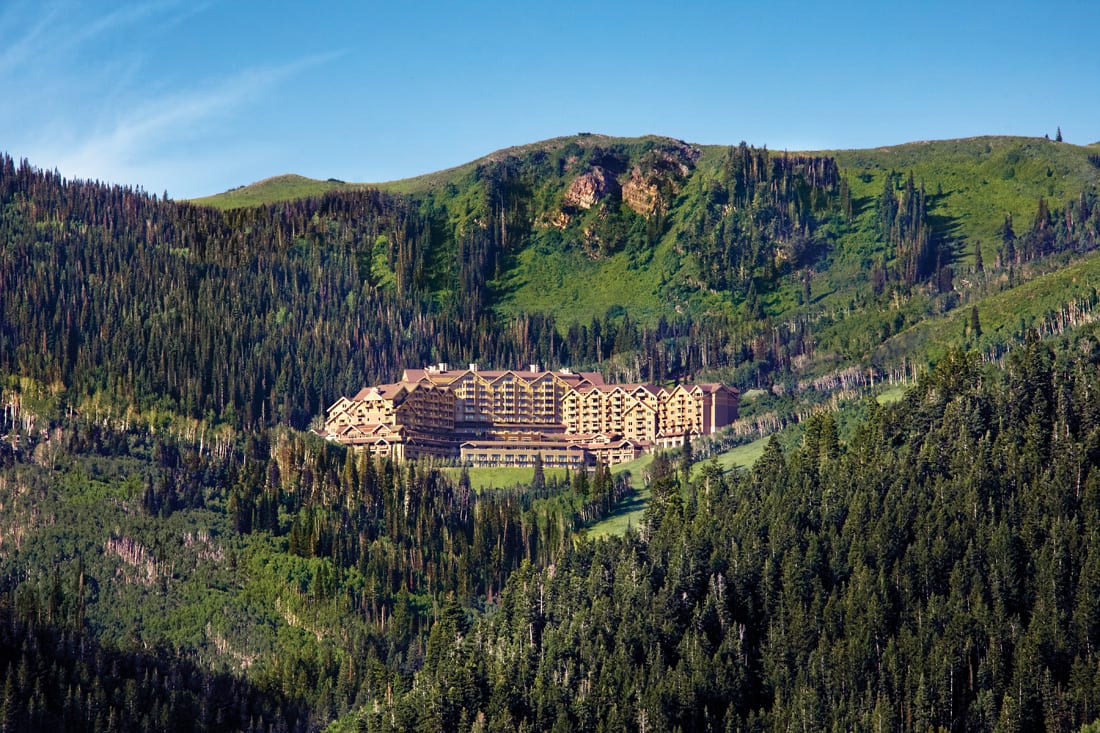 As the tiny private plane soared above the mountains, still dappled with winter snow, and headed toward the red rocks of Moab, Utah, I tried to wrap my brain around the adventure to come. Thanks to the Montage Deer Valley resort in Park City, I was about to enter a fantasy land for outdoor experiences. The next few days would be filled with activities such as trekking in the desert and fly-fishing in the mountains, followed by nights spent enjoying all the amenities of the luxe resort.
Take a Hike
The night before the Moab excursion, I'd flown into Salt Lake City and was whisked to the resort by town car. Once I arrived in my spacious room, complete with a cozy fireplace, I ordered a bowl of room service chicken soup, and it was off to bed to rest up for our day in the desert.
Before sunrise, I met my guides for the trip, Becky Menard and Andy Damman. With bleary eyes, we made the trip back down the mountain to Salt Lake City, where we boarded a private plane to Moab. The resort's Montage Expeditions, a series of personalized day trips, offer groups an opportunity to join expert guides for hiking and exploring one of southern Utah's national parks, including Arches. The best part? You're back in time for dinner at the resort.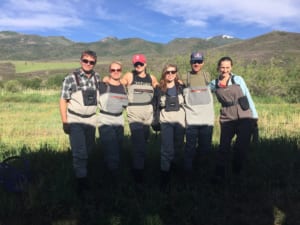 Upon landing in Moab, we headed to the Delicate Arch trail. Seeing the glorious arch at the end was worth every sweat-inducing step. Lunch was a gourmet picnic consisting of gazpacho and curried chicken salad. Post meal, we did a quick walk to Double Arch and cooled off at a spot outside the park that Andy called "Hidden Falls."
By early evening, we were back at the Montage. My burger and glass of red wine at Burgers & Bourbon hit the spot, as did the before-bed salt soak in my room's deep soaking tub.
Go Fish
On day two, I was up before the sun again. After getting fitted for waders at Compass Sports, our group hopped on the shuttle and wound our way down the valley to the Provo River, where we learned the basics of casting with a fly rod. After getting my line stuck in the tree above me a few times, I moved downstream a bit and got to experience the rush of catching fish after fish.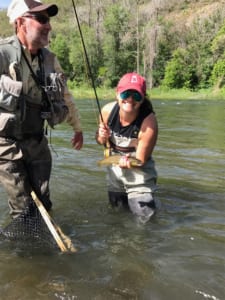 In true Montage fashion, a tasty lunch of fresh sandwiches, house made granola and chips was served riverside. I needed the fuel, because the part of the trip I'd been a bit freaked out about was up next.
Spin Your Wheels
After a wardrobe change, it was time to give mountain biking a shot. Before we'd even left the gravel parking lot at the trailhead, I fell off the bike, scraping my shins. I'm not the best at riding a bike on flat land, let alone a moderate trail with downhills, rocks and turns, but I was intent on not bailing out. It was exhilarating and scary at the same time. I fell once more while rounding a curve, but happily finished the ride in one piece. A 60-minute massage that night at the resort's 35,000-squarefoot spa eased my wounded ego.
We closed out the trip sipping on boozy hot chocolate and sharing our favorite moments from the 48-hour adventure. Scrapes and all, I made memories that will last a lifetime.
IF YOU GO:
Montage Deer Valley
montagehotels.com/deervalley
Rooms start at $360 per night. The resort's Montage Expeditions are $8,000 and include a round-trip flight to an area national park, guides, equipment and a gourmet lunch.
STORY: Amelia Pavlik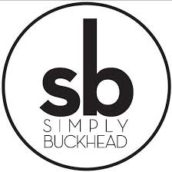 SimplyBuckhead
Simply Buckhead is an upscale lifestyle magazine focused on the best and brightest individuals, businesses and events in Buckhead, Brookhaven, Sandy Springs, Dunwoody and Chamblee. With a commitment to journalistic excellence, the magazine serves as the authority on who to know, what to do and where to go in the community, and its surroundings.